Rising COVID-19 cases have forced New Jersey Courts to again limit in-person proceedings, and the New Jersey Supreme Court is asking for feedback on what to do next. Under its proposal, New Jersey would conduct virtual civil jury trials during the ongoing pandemic.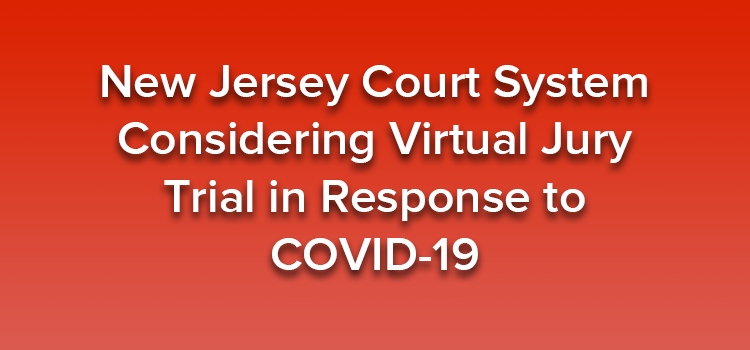 According to a Notice to the Bar, the Judiciary's Post-Pandemic Planning Committee on Resuming Jury Trials developed the proposal with discussion and detailed written input from members of the Working Group on COVID-19 Jury Operations, including the New Jersey State Bar Association, the New Jersey Association for Justice, the New Jersey Defense Association, and the Division of Law in the Department of Law and Public Safety.
COVID-19's Impact on the Court System
After being shuttered for months, the New Jersey court system fully reopened to criminal and civil jury trials in late September. However, on November 16, 2020, rising COVID-19 cases forced the New Jersey Supreme Court to suspend new in-person jury trials pending further order.
In support of conducting trials virtually, the proposal notes that the effect of resuming jury trials, even for such a short time, was substantial. Juries returned verdicts in several cases, and more than 225 civil cases settled after being scheduled and conferenced for trial dates.
Accordingly, the Judiciary Post-Pandemic Planning Committee on Resuming Jury Trials recommends that all civil case types (all dockets and all tracks) should be eligible for virtual civil jury trials, with the Civil Presiding Judge, trial judge, and attorneys working together to select or exclude cases based on individual factors. The proposal also allows for "hybrid" or "modified" virtual civil jury trials with the judge, attorneys, and even witnesses participating from the courtroom. However, it notes that "given the possibility of an executive order that further limits or suspends indoor gatherings, the judge and attorneys also should plan for how they could continue the trial in a fully virtual format if necessary."
The proposal suggests that the most straightforward cases — those involving a single plaintiff, a single defendant, and a modest number of live witnesses — should be scheduled first. Once those are completed, the courts could consider more complex cases. With regard to how virtual trials would be conducted, the Judiciary Post-Pandemic Planning Committee on Resuming Jury Trials makes the following recommendations:
Jury Selection: To minimize public health risks and maximize juror yield, jurors should not come into the courthouse for an in-person phase of selection. Rather, jury selection should be conducted virtually (without requiring attorney consent for that virtual selection process). Given the modified process, judges should be more permissive in allowing attorneys to participate during virtual voir dire. In addition, up to two additional alternates should be selected to account for the possibility that a juror may experience technical difficulties that prevent them from continuing with the trial or that a juror could develop a COVID-19 related issue that necessitates excusal
Use of Standard Technology: The Judiciary should provide standard technology to all empaneled jurors. The requirements for virtual jury selection should continue consistent with applicable court orders, including the Court's July 22, 2020 Order that permits the use of various appropriate technology, including smartphones with cameras, for purposes of selection. Samsung Galaxy Pro tablets should be provided to all empaneled jurors, with Broadband activated if necessary. Consistent with the protocols for virtual jury selection and virtual grand jury proceedings, empaneled jurors should receive instructions and training on use of Judiciary-issued technology and on the protocol for informing the judge if they experience a technical problem during the trial.
Pre-trial Conferences: The trial judge should conduct a comprehensive pretrial conference that covers all aspects of the virtual trial process, including whether the judge, attorneys, and parties will be present in a courtroom or participate remotely and the method(s) of presenting evidence. The proposal also states that the judge and attorneys should agree on a trial schedule designed to minimize Zoom fatigue for jurors.
Under the Judiciary's plan, consent to proceed remotely would not be required. However, it further provides that "to the extent practicable, the first virtual civil jury trials should involve judges and attorneys who are amenable to the process and willing to provide feedback for refinement of future protocols." It also states that relevant factors (including health- or travel-related barriers to attorneys convening in the courtroom) should be considered in selecting and scheduling cases for trial dates.