In the Matter of Registrant, G.H. and G.A., (A-38-18/081737)(Decided October 29, 2019), the Supreme Court of New Jersey held that a provision of Megan's Law that requires some sex offenders to register for life does not apply retroactively.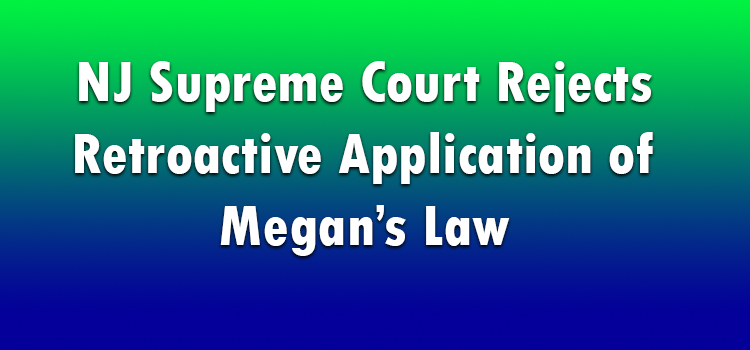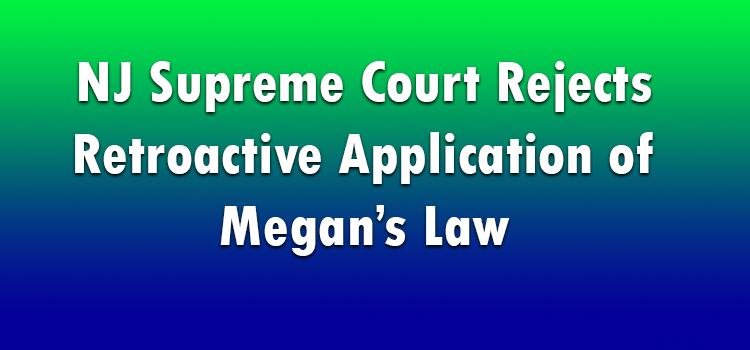 Facts of Matter of Registrant, G.H. and G.A.
Registrants G.H. and G.A. both pleaded guilty to offenses that required them to register for life under Megan's Law. At the time of their pleas, they would have been eligible to apply for relief from lifetime registration years later, under subsection (f) of N.J.S.A. 2C:7-2, if they did not commit an offense within fifteen years of their convictions or their release from jail, and if a judge found they were "not likely to pose a threat to the safety of others."
In 2002, the New Jersey Legislature amended Megan's Law to add a provision, Subsection (g), that bars certain convicted sex offenders, including those who are convicted of more than one sex offense, or who have been convicted of certain violent sex offenses, from applying to terminate their registration requirements. As a result, the lifetime registration requirements of Megan's Law became "permanent[ and] irrevocable" for offenders like G.H. and G.A.
Neither G.H. nor G.A. has committed an offense for more than fifteen years since his release from custody. Prior to the adoption of subsection (g), both would have been eligible for relief from lifetime registration pursuant to N.J.S.A. 2C:7-2(f) However, because G.H. was convicted of more than one sexual offense, and both G.H. and G.A. were convicted of offenses listed in subsection (g), the respective trial courts denied their requests to terminate registration obligations.
The Appellate Division reversed, holding that the New Jersey Legislature did not intend for Subsection (g) to apply retroactively. In reaching its decision, the Appellate Division observed that "the Legislature did not explicitly provide that subsection (g) applied retroactively" and found no implied intent of retroactive application in the legislative history of Megan's Law or subsection (g). The court added that "[a] statute also may be applied retroactively if it is 'curative' . . . or if the parties' expectations warrant retroactive application" but found those "categories of potential retroactive application" inapplicable in this case. The appeals court further held that applying the provision to those who were "convicted or released" prior to January 8, 2002 would be "manifestly unjust."
NJ Supreme Court's Decision in Matter of Registrant, G.H. and G.A.
The New Jersey Supreme Court affirmed in a per curium decision. "[T]he Court finds no statement of legislative intent, express or implied, that subsection (g) should be applied retroactively," the court held. "Nor does it find that subsection (g) was curative, or that the parties' expectations warranted retroactive application."