U.S. District Judge Brian Martinotti recently issued a preliminary injunction in Americans for Prosperity v. Grewal. The order halts the implementation of Senate Bill No. 150, which is often referred to as New Jersey's dark money law. In support of his decision, Judge Martinotti cited "the likely unconstitutional reach of the Act."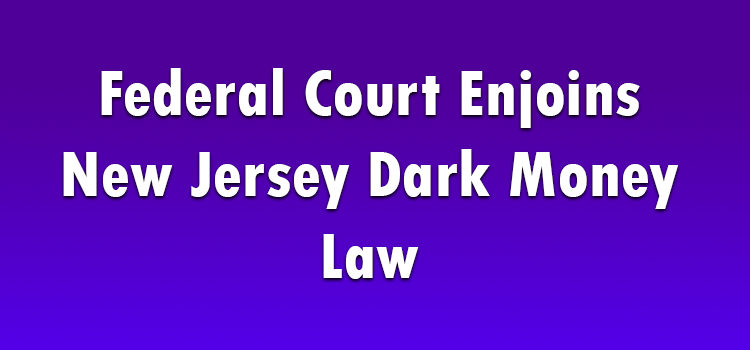 Facts of Americans for Prosperity v. Grewal
The New Jersey Senate passed Senate Bill 1500 on March 25, 2019. According to a statement by the Senate Budget and Appropriations Committee, this legislation was intended to update "'The New Jersey Campaign Contributions and Expenditures Reporting Act' to institute new reporting requirements on certain organizations, and increase the limits on the amount of money that may be contributed by individuals, candidates, and committees to other candidates and committees." It specifically addresses "independent expenditure committees," which are defined as any person or entity "organized under section 527 of the federal Internal Revenue Code (26 U.S.C. § 527) or under paragraph (4) of subsection c. of section 501 of the federal Internal Revenue Code (26 U.S.C. § 501) that does not fall within the definition of any other organization."
Pursuant to N.J. Stat. Ann. § 19:44A-8(d)(1) as amended by S1500, these independent groups must file quarterly with ELEC a list of all contributions of more than $10,000 and, pursuant to N.J. Stat. Ann. § 19:44A-8(d)(2), all expenditures of more than $3,000 spent on "influencing or attempting to influence the outcome" of any election, public question, legislation or regulation, or "provide any political information" on any candidate, public question, legislation or regulation. The non-exhaustive list of expenditures that count toward the $3,000 include "electioneering communications, voter registration, get-out-the-vote efforts, polling, and research.
New Jersey Governor Phillip Murphy conditionally vetoed the bill on May 13, 2019, stating that while he commended the Legislature's attempt to "ensure that so-called 'dark money' is brought out into the open," he believed certain provisions "may infringe" rights of free speech and free association protected by the First Amendment of the U.S. Constitution. In response, the Senate passed a bill practically identical to S1500 that was renumbered as S150. Gov. Murphy signed S150 into law on June 17, 2019, though he issued a signing statement reiterating the same concerns identified in his conditional veto of the prior bill.
Plaintiff Americans for Prosperity (Plaintiff or AFP) filed suit on June 25, 2019, seeking a "declaration that S150's provisions compelling disclosure of donor information and compliance with its burdensome reporting requirements violates the First Amendment (as incorporated by the Fourteenth Amendment) both on their face and as applied to AFP, and are therefore null and void." It also sought an injunction enjoining enforcement of the new law.
In response to the suit, the State of New Jersey argued that S150 is constitutionally sound on its face and as applied to Plaintiff. It further maintained that each of Plaintiff's arguments rely on an overbroad reading of the statute, and that its "election-related disclosure requirements" are similar to those "courts have upheld over the course of decades.
Court's Decision in Americans for Prosperity v. Grewal
Judge Martinotti granted the preliminary injunction, concluding that AFP was likely to show that S150 fails to pass constitutional scrutiny.
In reaching his decision, Judge Martinotti concluded the plain text does not reveal "a substantial relation between the disclosure requirement and a sufficiently important governmental interest." Accordingly, he found that S150 is constitutionally overbroad, noting that "the Court sees few, if any, limitations in the Act."
Judge Martinotti rejected the State's argument that a narrow reading could save the Act, concluding that it still went beyond what is permissible under First Amendment precedent. As he explained:
Even if the Court were inclined to read "electioneering communications" as limiting or synonymous with "influencing or attempting to influence" as Defendants suggest, the Court's conclusion would be unchanged. That is because the Act requires the same disclosure scheme whether an independent expenditure committee engages in electioneering communications identifying a clearly defined candidate, engages in "influencing or attempting to influence" any election, or engages in providing political information, which the Act makes clear includes any fact or opinion. The interplay between the definitions of "electioneering communications" and "influencing or attempting to influence" advocated by Defendants may clear up confusion otherwise evident in the Act, but it is the definition of "providing political information" that the Court views as more constitutionally troubling, as it extends disclosure regimes the Supreme Court has approved of well beyond the boundaries set by Buckley, McConnell, and Citizens United.
Notably, Judge Martinotti's decision does not strike down the law, but rather prohibits its enforcement during the pendency of the lawsuit. Nonetheless, the New Jersey Legislature is currently working on a narrower clean-up bill (Assembly Bill No. 5754) that is more likely to withstand legal challenges.