There are limits on how many times prosecutors can submit a case to a grand jury after a prior grand jury declines to indict, according to the Supreme Court of New Jersey. In State v. Jerome Shaw, Jr. (A-59-18/081652) (Decided March 4, 2020), the state's highest court held that if grand juries decline to indict on two prior occasions, the State must obtain advance approval from the Assignment Judge before it can submit the same case to a third grand jury.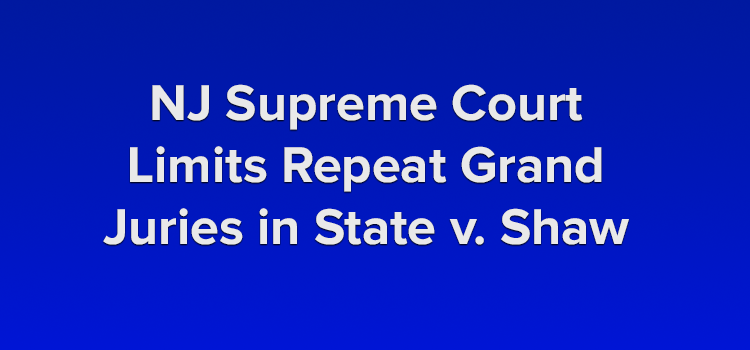 Facts of State v. Shaw
At about 1:00 a.m. on October 21, 2012, a sergeant with the Upper Saddle River Police Department discovered a pickup truck blocking a road and facing a house. After noticing a rifle case in the back seat, he called for backup. The responding officer, Officer Edward Riedel, noted that the driver, Jerome Shaw, Sr. (Shaw Sr.), and his son and passenger, defendant Jerome Shaw, Jr. (Defendant), were dressed in black clothing and shoes, and each had gloves, a black mask, and black goggles at his feet. A subsequent search of the rifle case revealed a large mallet, five crowbars, two sets of pliers, zip ties, a pipe wrench, and knee pads, many of which still had price tags attached. During questioning, Shaw Sr. and the Defendant each said they were involved in construction work but their stories didn't match. The police arrested both men. Defendant had a flashlight in his pocket along with a list of addresses: four homes in Upper Saddle River and two in Mendham. Defendant and his father resided in New York.
In February 2013, the State presented the case to a grand jury. Riedel, the sole witness, presented the information detailed above; however, the grand jury declined to indict. The State resubmitted the case to a second grand jury in March. Once again, Riedel, the sole witness, presented similar testimony with some additional facts. While the grand jury voted to indict, the trial court dismissed the true bill as a violation of the "multiple presentation rule."
In April 2013, the prosecution presented the case a third time to another grand jury. In addition to Riedel's testimony, the prosecution called an expert in burglary investigations who explained the significance of certain items found at the scene, including that experienced burglars often purchase new tools before committing a burglary because paint chips can yield a possible forensic match. The grand jury returned a ten-count indictment charging Shaw Sr. and defendant. Defendant argued that because the prosecution presented essentially the same evidence before the third grand jury, the indictment should be dismissed. The trial court found that the State had offered new and different expert testimony and, therefore, did not violate the "multiple presentation rule." The Appellate Division affirmed, expressing confidence that the Court "would place some limits on successive resubmissions." However, it still concluded that resubmission in this case did not deprive defendant "of fundamental fairness."