In Cowley v. Virtua Health System (A-47-18/081891) (Decided May 4, 2020), the Supreme Court of New Jersey held that the "common knowledge" exception to the Affidavit of Merit Statute did not apply to the plaintiff, a hospital patient who removed her own breathing tube and refused replacement.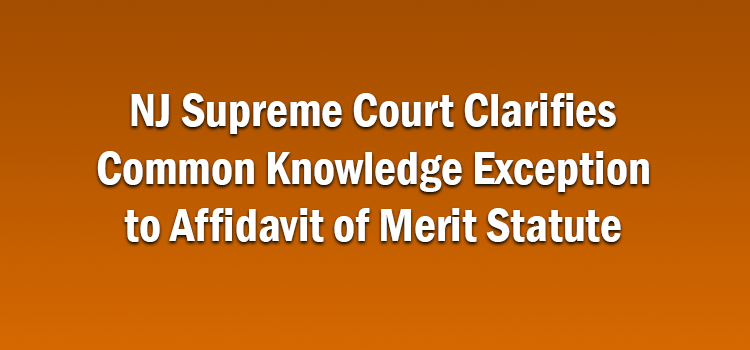 Facts of Cowley v. Virtua Health System
Plaintiff Linda Cowley was admitted to Virtua Voorhees Hospital (Virtua). A physician entered an order directing nursing staff to insert a Nasogastric Tube (NG Tube), a tube that passes through the nose into the stomach to deliver medicine, liquids, and liquid food to a patient. According to Virtua's records, Cowley removed her NG Tube overnight and refused replacement. Cowley and her husband (collectively, the "plaintiffs")sued Virtua and others, alleging defendants did not comply with the written order to insert an NG Tube and that her condition deteriorated while the NG Tube was dislodged.
Defendants filed a demand for an affidavit of merit. New Jersey's Affidavit of Merit Statute (N.J.S.A. 2A:53A-27) requires that, in malpractice actions, plaintiffs "provide each defendant with an affidavit of an appropriate licensed person that there exists a reasonable probability that the care, skill or knowledge exercised or exhibited in the treatment, practice or work that is the subject of the complaint, fell outside acceptable professional or occupational standards or treatment practices." Failure to provide an affidavit or its legal equivalent is "deemed a failure to state a cause of action," requiring dismissal with prejudice unless an equitable exception applies.
Plaintiffs argued their duty to provide an affidavit of merit was relieved because the case involved a matter of "common knowledge." The exception applies in cases in which an expert is not needed to demonstrate that a defendant professional breached some duty of care because the carelessness of the defendant is readily apparent to anyone of average intelligence.
The trial court dismissed plaintiffs' complaint with prejudice, determining that the common knowledge exception did not apply and an affidavit of merit was required. The Appellate Division reversed, holding that the common knowledge exception was applicable to this case, reasoning that "common sense dictates that some action should have been taken when the nurses were confronted with the sudden termination of Linda's medical treatment that was required by the physician charged with her care."
NJ Supreme Court's Decision in Cowley v. Virtua Health System
The New Jersey Supreme Court reversed, holding an affidavit was required. In reaching its decision, the court emphasized that the common knowledge exception to the Affidavit of Merit Statute applies only in the limited cases where a person of reasonable intelligence can use common knowledge to determine that there was a deviation from a standard of care and an expert is no more qualified to attest to the merit of a plaintiff's malpractice practice claim than a non-expert.
"This is not one of those cases. Here, where a patient removed the tube herself and refused replacement, important questions about the procedures, protocols, and duties of a licensed nurse in these circumstances must be explained in order to establish a deviation in the standard of care," Justice Faustino Fernandez-Vina wrote for the court. "In addition, important considerations about patient autonomy complicate the standard-of-care analysis. A jury could not reach a determination as to a nurse's responsibility under these circumstances without the benefit of expert opinion as to the appropriate balance between patient autonomy and prescribed treatment."
The New Jersey Supreme Court disagreed with the Appellate Division's conclusion that the case "presents the circumstance of an alleged obvious act of omission, rather than an affirmative action that clearly bespoke negligence," thus not requiring the "weeding out" of plaintiff's claims.
"That approach allows plaintiffs to circumvent the Affidavit of Merit Statute by disguising complex negligence cases with common knowledge allegations as to acts of omission. Determining whether action should or should not have been taken is not enough. Jurors cannot be allowed to speculate as to whether a procedure conformed to the required professional standards of care," Fernandez-Vina wrote.
The court also emphasized the complexity of the case, noting that "[t]his is not simply a case of failure to follow a physician's order." As Justice Fernandez-Vina explained, "The issue for the jury is not whether a nurse may ignore a physician's order, but rather what steps are required of a nurse when a patient refuses reinsertion of an NG Tube after its removal." She added: "Included in that assessment will be considerations about a patient's exercise of a right to refuse treatment. And resolution of that issue — determination of what action, if any, should be taken under circumstances like those presented here — ultimately requires expert opinion as to the appropriate standard of care, as well as the submission of an affidavit of merit."