In Joshua Haines v. Jacob W. Taft, (A-13/14-17) (Decided March 26, 2019), the Supreme Court of New Jersey held that that plaintiffs who elected limited $15,000 personal injury protection (PIP) coverage can't seek economic damages for the difference between their reduced limit and the amount of their unpaid medical bills, totaled up to the presumptive PIP limit of $250,000.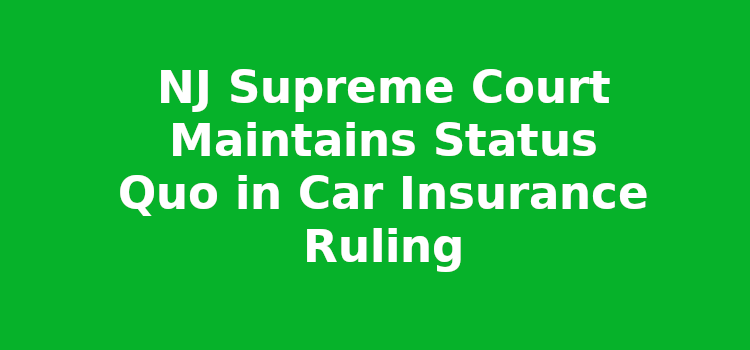 Facts of Joshua Haines v. Jacob W. Taft
Each plaintiff in the consolidated appeal was injured in a car accident. Each was insured under a standard policy with insurance that provided for $15,000 in PIP coverage instead of the default amount of $250,000. Neither plaintiff was able to sustain a claim for bodily injury (noneconomic loss) due to each policy's limitation-on-lawsuit option. Each was suing for outstanding medical provider charges in excess of their elected PIP coverage ($28,000 and $10,000, respectively).
Each plaintiff filed a personal injury claim, and each defendant moved to preclude plaintiff from presenting evidence of medical expenses that exceeded their $15,000 PIP limits. Defendants relied on N.J.S.A. 39:6A-12 (Section 12), which addresses the inadmissibility of evidence of losses collectible under personal injury protection, as well as Roig v. Kelsey, 135 N.J. 500 (1994). In Roig, the Court held that the public policies underlying the no-fault system required that Section 12 be construed to prohibit injured parties from recovering medical deductibles and copayments from a tortfeasor.
In opposition to the motion, plaintiff Joshua Haines maintained that medical bills exceeding PIP coverage constitute "economic loss" as that term presently is defined in N.J.S.A. 39:6A-2(k) and that evidence of such medical bills should thus be admissible. Similarly, plaintiff Tuwona Little distinguished the present case from Roig, stating that, in amending the definition of economic loss to include "medical expenses" after Roig, the Legislature "clearly evinced its intention to allow recovery [in tort] for medical expenses."
The trial courts ruled against plaintiffs in each case and prohibited them from admitting evidence of their medical expenses that exceeded their $15,000 PIP limits. After consolidating the cases on appeal, the Appellate Division reversed both trial court orders.
Majority Decision in Joshua Haines v. Jacob W. Taft
The New Jersey Supreme Court reversed by a vote of 3-2, concluding that the Appellate Division's decision is "at odds with the overall intent of the legislative scheme for no-fault insurance." Justice LaVecchia wrote the majority opinion, in which Chief Justice Rabner and Justice Solomon joined.
The Court reasoned that in the absence of "greater clarity of statutory language," any other result would create "too large of a shift from the historical priorities and purposes of the statute." As Justice LaVecchia explained:
We cannot conclude that there is evidence of a clear intention on the part of the Legislature to deviate from the carefully constructed no-fault first-party PIP system of regulated coverage of contained medical expenses and return to fault-based suits consisting solely of economic damages claims for medical expenses in excess of an elected lesser amount of available PIP coverage. Unless the Legislature makes such an intent clearly known, we will not assume that such a change was intended by the Legislature through its amendments to the no-fault system in the Automobile Insurance Cost Reduction Act (AICRA).
The majority further found that interpreting Section 12 to allow the admission of evidence of medical expenses falling between the insured's PIP policy limit and the presumptive PIP amount of $250,000 transgresses the overall legislative design of the No-Fault Law to "reduc[e] court congestion[,] . . . lower[] the cost of automobile insurance[,]" and most importantly, avoid fault-based suits in a no-fault system, as acknowledged in Roig.
Finally, the court invited the Legislature to intervene to clarify its intent. "Should the Legislature disagree with our restrained interpretation of its statutory scheme, we invite the Legislature to make its intention to introduce fault-based suits into the no-fault medical reimbursement scheme more explicit," Justice LaVecchia wrote.
Dissent in Joshua Haines v. Jacob W. Taft
Justice Albin authored a dissent, which was joined by Judge Fuentes (temporarily assigned). Justice Albin argued that N.J.S.A. 39:6A-12 is intended to prevent a double recovery of damages, not to deny an automobile accident victim a just recovery of damages. He further maintained that the majority's interpretation is at odds with the plain wording of N.J.S.A. 39:6A-12, the legislative history of the No Fault Act, and public policy. Justice Albin also argued that the majority's decision "will have a devastating impact on low-income insureds who must settle for less PIP coverage options because they cannot afford the highest coverage."