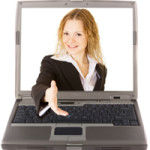 Government surveillance is currently a hot topic, even in New Jersey schools. Effective July 1, school districts are required to notify students and their parents if school-supplied electronic devices may record or collect information on the student's activity or the student's use of the device.
The law is named the Anti-Big Brother Act and follows incidents in other states where laptop computers were found to be equipped with cameras and other monitoring devices that were used without the student's knowledge.  Under the New Jersey statute:
A school district or charter school that furnishes a student with a laptop computer, cellular telephone, or other electronic device shall provide the student with written or electronic notification that the electronic device may record or collect information on the student's activity or the student's use of the device if the electronic device is equipped with a camera, global positioning system, or other feature capable of recording or collecting information on the student's activity or use of the device.  The notification shall also include a statement that the school district or charter school shall not use any of the capabilities in a manner that would violate the privacy rights of the student or any individual residing with the student. 
A school district or charter school failing to provide the notification required by this section shall be subject to a fine of $250 per student, per incident.
In advance of the new school year, the New Jersey Department of Education recently released guidance regarding the new requirements. The guidance clarifies specific terms in the statute and emphasizes that "it is important to consider the development of district policies that address issues that are a result of using electronic equipment outside of school."
According to the DOE, some of the areas that may be reflected in policy are:
Rights and responsibilities of students with remote access to the school network;
Identification of roles and authority of district administrators, teachers and technicians in maintaining and supervising students' use of electronic devices;
Notification that situations may arise where the technical staff will need remote access to the electronic device for maintenance reasons;
Situations when the district may need to access and review files, including online activity, on the electronic device; and
Methods to ensure students and parents acknowledge and understand the procedures, regulations and other policies related to this legal requirement.
The Anti-Big Brother Act represents an additional compliance requirement for New Jersey schools. To ensure policies are in line with the new requirements, it is advisable to consult with an experienced government law attorney.
For more information about the law or the compliance issues involved, we encourage you to contact a member of Scarinci Hollenbeck's Government Law Group.