In Bryheim Jamar Baskin v. Rafael Martinez, (A-70-18/081982) (Decided July 9, 2020), the Supreme Court of New Jersey held that a Camden police officer is not entitled to qualified immunity on summary judgment. According to the court, the issue of whether Detective Martínez's use of deadly force was objectively reasonable is for a jury to resolve, not for a court.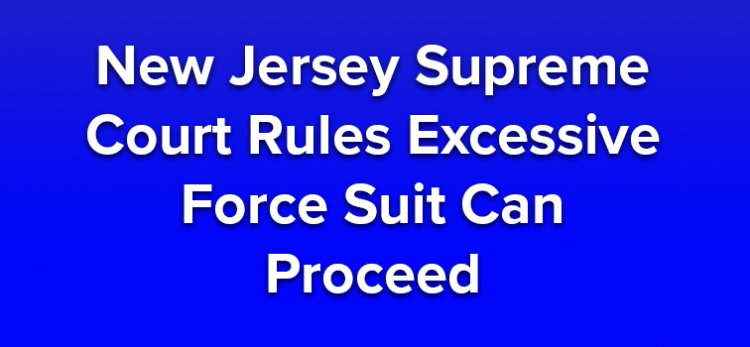 Facts of Baskin v. Martinez
Plaintiff Bryheim Jamar Baskin claims that a justifiable police chase ended in an unjustifiable police shooting. His suit under 42 U.S.C. § 1983 alleges the use of excessive force in violation of the Federal Constitution.
According to court documents, police gave chase to Baskin after he crashed his car into an unmarked patrol vehicle occupied by Detective Rafael Martinez. Baskin fled on foot armed with a handgun, which he discarded out of Martinez's sight. Then, Baskin found himself trapped in a walled yard with no way to escape. At this point, the accounts given by Baskin and a neighborhood eyewitness and Detective Martinez are vastly different.
According to Baskin and the eyewitness, Baskin put his hands above his head and turned toward the pursuing police officer. His palms were open, he was not holding a weapon, and he made no gesture that he was reaching for a weapon. Baskin and the eyewitness state that while Baskin's hands were in the air in a sign of surrender, Detective Martinez shot him in the abdomen, causing serious and permanent injuries. In contrast, Detective Martinez maintains that when Baskin finally came into sight, Baskin turned and pointed in the detective's direction an object that looked like a gun. Only then, fearing for his life, says Detective Martinez, did he discharge his weapon. Although no handgun was found where Baskin fell, two cell phones were located nearby.
Despite those disputed facts, the trial court granted Detective Martinez qualified immunity and dismissed Baskin's Section 1983 action. A split three-judge Appellate Division panel reversed and reinstated the case. Based on the dissent in the Appellate Division, the issue of whether Detective Martinez is entitled to qualified immunity proceeded before the New Jersey Supreme Court on an appeal as of right.
NJ Supreme Court's Decision in Baskin v. Martinez
A divided Supreme Court of New Jersey affirmed, concluding that Detective Martinez was not entitled to qualified immunity on summary judgment.
"At the summary judgment stage, in deciding the issue of qualified immunity, our jurisprudence requires that the evidence be viewed in the light most favorable to Baskin. Therefore, for summary judgment purposes, we must accept as true the sworn deposition testimony of Baskin and the independent eyewitness, who both stated that Baskin's hands were above his head, in an act of surrender, when Detective Martinez fired the shot," Justice Barry Albin wrote. "Under that scenario, a police officer would not have had an objectively reasonable basis to use deadly force. The law prohibiting the use of deadly force against a non-threatening and surrendering suspect was clearly established, as evidenced by cases in jurisdictions that have addressed the issue."
In support of its decision, the majority noted that at the summary judgment stage, when deciding whether qualified immunity applies, the evidence must be viewed in the light most favorable to Baskin. Accordingly, the court must accept as true the testimony of Baskin and the eyewitness. As Justice Albin explained:
The law is not in doubt here, however disputed the facts may be about whether Baskin's hands were empty and up in the air just moments before the shooting. Although for qualified immunity purposes, we must consider the totality of the circumstances through the perspective of an objectively reasonable police officer on the scene — an officer facing "tense, uncertain, and rapidly evolving" events, — we must also accept Baskin's version of those events that are in dispute and draw all reasonable inferences in his favor. In rendering a decision on qualified immunity, we do not sit as a trier of fact, weighing the evidence and making credibility determinations. That role is exclusively reserved for the jury in our system of justice.
Justice Lee Solomon issued a dissent, joined by Justices Anne Patterson and Faustino Fernandez-Vina. The dissenters argued thatthat Martinez was entitled to qualified immunity because he reasonably believed that he confronted an armed and dangerous suspect who posed an immediate threat to his life.
"Baskin thus openly … exhibited a total willingness to commit dangerous acts against police officers and displayed an apparent disregard for innocent bystanders," Justice Solomon argued. "Additionally, Baskin posed an immediate threat because he was in possession of a handgun while actively resisting arrest. Those facts reasonably led Martinez to conclude that Baskin, who had committed serious crimes involving the infliction or threatened infliction of serious physical harm—crashing into a police vehicle in an attempt to escape—was dangerous and willing to use deadly force against the officer and others."