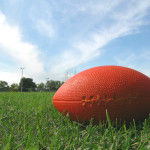 The National Football League (NFL) zealously protects its "Super Bowl" trademark, sending out 80 to 100 cease-and-desist letters each year to businesses using the brand without permission. Official sponsors like Pepsi generally shell out millions of dollars in licensing fees in order to use the logo.
As New Jersey prepares to host the 2014 Super Bowl XLVIII at the Meadowlands, the New York / New Jersey Super Bowl Host Committee sent out a preemptive warning to municipalities planning Super Bowl related events. The letter stated that the committee is "is extremely sensitive to events that are sponsored by or connected with products or companies that are competitors to the Host Committee or NFL sponsors."
The letter specifically states that municipalities cannot use the NFL, Lombardi Trophy, and Super Bowl logos. However, they can call themselves a "Super Community" or promote a "Super Celebration Fair." Towns and cities will also need to obtain the New York / New Jersey Super Bowl Host Committee's permission to use its "snowflake" logo in advertising materials.
"We wanted to be proactive and give guidance, because we didn't want any money — public or private — wasted on developing materials or signage that runs afoul of NFL sponsorships or trademarks," Al Kelly, the host committee chief executive, told The Record. "We don't want them to have to just burn what they did."
Given the significant intellectual property concerns, we encourage New Jersey municipalities to work with experienced counsel who can help ensure that any Super Bowl promotional materials do not result in unexpected liability.
For more information about this case or the legal issues involved, we encourage you to contact a member of Scarinci Hollenbeck's Government Law Group.