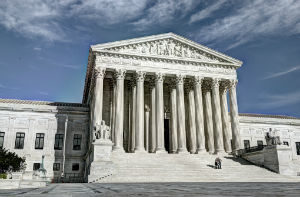 In Endrew F. v. Douglas County School District, the U.S. Supreme Court unanimously held that public schools are responsible for providing students with disabilities education programs that are "more than de minimis." The Court's decision significantly expands the obligations of New Jersey public schools under the Individuals with Disabilities Education Act (IDEA).
Facts of the Case
Under IDEA states receive federal funds to assist in educating children with disabilities. States must satisfy certain statutory requirements, namely providing every eligible child a "free appropriate public education" (FAPE), in order to receive funding. Further, cases interpreting IDEA have mandated that each student must have a uniquely tailored individualized education program (IEP) that sets forth an educational program that is "reasonably calculated to enable the child to receive educational benefits."
In Endrew F., the parents of Petitioner Endrew, a child with autism, sought reimbursement of his private school tuition. Endrew's parents removed him from the Douglas County School District after concluding that he was failing to progress. Endrew had been enrolled in the district's special education program from preschool through fourth grade. When the school district proposed a fifth grade IEP that was nearly identical to those of prior years, Endrew's parents pulled him from public school. Within six months, he had made significant progress at the specialized private school.
Endrew's parents subsequently filed a complaint with the Colorado Department of Education, citing IDEA, seeking reimbursement for Endrew's private school tuition. The Department of Education denied Endrew's parents' request for reimbursement. The Federal District Court and the Tenth Circuit Court of Appeals affirmed the Department of Education's denial. The Tenth Circuit held that a child's IEP is adequate as long as it is calculated to confer an "educational benefit [that is] merely . . . more than de minimis." The Tenth Circuit further held that because Endrew's IEP had been "reasonably calculated to enable [him] to make some progress," he had received a FAPE.
New Special Education Standard Under the IDEA
The United States Supreme Court unanimously rejected the Tenth Circuit's approach. It held that "[t]o meet its substantive obligation under the IDEA [Individuals with Disabilities Education Act], a school must offer an IEP reasonably calculated to enable a child to make progress appropriate in light of the child's circumstances."
In reaching its decision, the Court strongly rejected the "de minimis standard." As Chief Justice John Roberts wrote, "A student offered an educational program providing 'merely more than de minimis' progress from year to year can hardly be said to have been offered an education at all. For children with disabilities receiving instruction that aims so low would be tantamount to 'sitting idly…awaiting the time when they were old enough to 'drop out.'"
The Court explained, "[f]or a child fully integrated in a regular classroom, an IEP typically should be 'reasonably calculated to enable the child to achieve passing marks and advance from grade to grade.'" Disabled students, for whom advancement from grade to grade is "not a reasonable prospect," an IEP "must be appropriately ambitious in light of his circumstances." Notably, the Court's decision stressed the importance of parents' input when implementing an IEP. Accordingly, the new standard requires "prospective judgment by school officials" that "will be informed not only by the expertise of school officials but also by the input of the child's parents and guardians."
While the Court's ruling is a welcome relief to parents of students with special needs, it will require many public-school districts to revise their special education programs. To ensure compliance with the new IDEA standard, it is advisable to seek guidance from experienced counsel.
For more information about the Supreme Court's decision in Endrew F. v. Douglas County School District or the legal issues involved, we encourage you to contact a member of Scarinci Hollenbeck's Government Law Group.