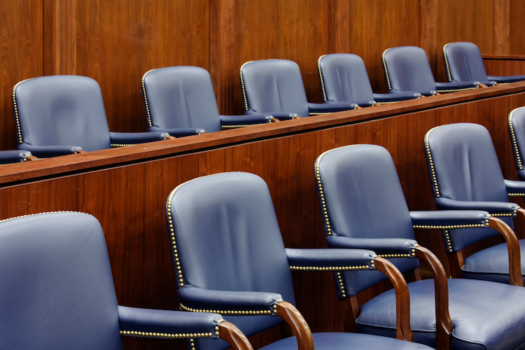 In State v. Joseph S. Macchia (A-49-21/086334) (Decided March 16, 2023), the Supreme Court of New Jersey held that juries are not required to unanimously agree on why they reject a claim of self-defense or explain their reasoning. The court's decision was unanimous.
Facts of State v. Macchia
Defendant Joseph S. Macchia (Defendant), an off-duty police officer, fatally shot Michael Gaffney outside a bar during a fight. At trial, Defendant testified that he acted in self-defense, shooting Gaffney because he believed Gaffney was reaching for his service weapon.
Pursuant N.J.S.A. 2C:3-4(b)(2), the State had the burden to prove that defendant did not justifiably use lethal force in self-defense by showing: (1) defendant's belief "that such force [was] necessary to protect himself against death or serious bodily harm" was not reasonable; (2) defendant "provoked the use of force against himself in the same encounter" "with the purpose of causing death or serious bodily harm"; or (3) defendant knew that he could retreat in "complete safety."
The jury unanimously rejected defendant's claim of self-defense and unanimously found defendant guilty of second-degree reckless manslaughter. The Appellate Division affirmed. On appeal to the New Jersey Supreme Court, the Defendant argued that he is entitled to a new trial because the trial court failed to instruct the jury that it needed to agree unanimously on which one or more of the three reasons led it to reject his claim of self-defense.
NJ Supreme Court Decision in State v. Macchia
The New Jersey Supreme Court held that the unanimous verdict rejecting self-defense was sufficient to sustain Macchia's conviction for reckless manslaughter. In so ruling, it rejected his argument that the jury was also required to unanimously agree as to why it rejected Macchia's claim of self-defense.
In reaching its decision, the New Jersey Supreme Court noted that there are two crucial distinctions between an element of an offense for juror-unanimity purposes and the disjunctive means by which the State can disprove an affirmative defense such as self-defense. First, while the State must prove every essential element of the crime, it only needs to only disprove a single factor or triggering circumstance to overcome a claim of self-defense. Second, it is generally the defendant, not the State, who controls the shape and direction of a self-defense claim. "Because the State is in an 'inferior tactical position' in trying to disprove a defense, it would be unreasonable to require the State 'to present for the jury's unanimous agreement a definitive set of facts, neatly synthesized in a unified theory, designed to explain why the defendant's conduct was not justified,'" the court explained.
The New Jersey Supreme Court also emphasized that its holding is consistent with the approach of every other court to have considered the question. "All have held that a jury need not unanimously agree on the underlying basis for rejecting self-defense; it need only unanimously agree that the prosecution disproved self-defense beyond a reasonable doubt," the court wrote. The New Jersey Supreme Court further found that a specific unanimity charge was unnecessary since the state was not relying on conflicting theories or evidence. Based on all of the above, the court held that the trial court properly instructed the jury on the State's burden in disproving self-defense and no specific unanimity charge was required.