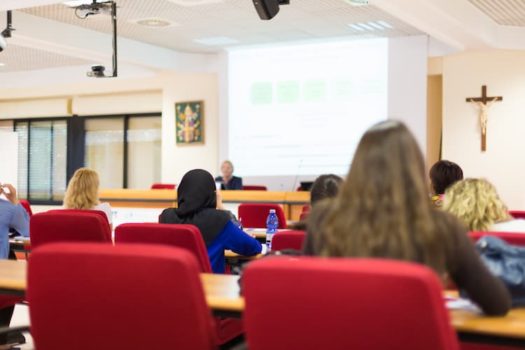 The Supreme Court of New Jersey has agreed to consider the case of a New Jersey Catholic school teacher who was terminated for becoming pregnant via premarital sex. The issue in Crisitello v. St. Theresa School is whether the teacher's discrimination claims are barred by the First Amendment.
Facts of the Case
Plaintiff Victoria Crisitello filed suit against defendant St. Theresa's R.C. Church, the owner and operator of St. Theresa School, a Roman Catholic parochial school. As part of defendant's effort to maintain a religious environment, it adopted the religious policies on professional and ministerial conduct espoused by the Archdiocese, including a code of ethics. That code states: "Church personnel shall exhibit the highest Christian ethical standard and personal integrity," and "shall conduct themselves in a manner that is consistent with the discipline, norms and the teachings of the Catholic Church."
St. Theresa's policies further preclude immoral conduct by employees, which is defined as "[c]onduct that is contrary to the discipline and teachings of the Catholic Church[,] and/or which may result in scandal . . . or harm to the ministry of the Catholic Church." They apply to clergy members and the "lay faithful," which are defined as all "paid personnel whether employed in areas of ministry or other kinds of services . . . ."
The defendant terminated plaintiff's employment after she disclosed that she was pregnant and defendant's school principal determined plaintiff was unmarried. According to the principal, defendant fired plaintiff for engaging in premarital sex, a violation of defendant's ethics code and policies. After her termination, plaintiff filed suit against defendant under the New Jersey Law Against Discrimination (LAD). After the trial court dismissed the suit, the Appellate Division reversed, concluding her LAD claim was not barred by the First Amendment or the LAD's "religious exemption." The appeals court further held that plaintiff established a prima facie claim of discrimination. On remand, the trial court again dismissed the suit. On appeal, the plaintiff argued that the trial court improperly granted summary judgment as defendant had no specific policy explaining that an employee could be terminated for premarital sex and her termination was solely due to defendant's knowledge of her pregnancy.
Appellate Division's Decision
The Appellate Division reversed, concluding that summary judgment was improperly granted to defendant because a reasonable trier of fact could conclude that her termination violated the LAD. "We now hold that knowledge or mere observation of an employee's pregnancy alone is not a permissible basis to detect violations of the school's policy and terminate an employee," the court wrote.
In reaching its decision, the Appellate Division emphasized that neither the defendant's code of ethics nor its handbook contained any express prohibition against premarital sex. It wrote:
We reverse because on summary judgment it was undisputed that defendant took no actions to detect whether any of its employees violated Catholic tenets or breached defendant's employee handbook. Instead, the evidence established that defendant relied only upon knowledge of its female employees' pregnancy and marital status as a basis to enforce its code of ethics and handbook requirements neither of which expressly addressed premarital sex as a prohibited conduct, but of which the former prohibited engaging in "immoral conduct" that could cause "scandal."
The Appellate Division also cited that the school failed to make any effort to determine whether any of its other employees have violated the school's prohibition against "immoral conduct." "While a religious school employer may validly seek to impose moral doctrine upon its teaching staff, punishment singularly directed at the Hester Prynnes, without regard to the Arthur Dimmesdales, is not permissible," the court wrote, referring to characters from The Scarlet Letter.