The Supreme Court of New Jersey recently heard oral arguments in a closely-watched arbitration case. Flanzman v. Jenny Craig, Inc. involves the enforceability of arbitration agreements that fail to specify the logistics of arbitrating claims.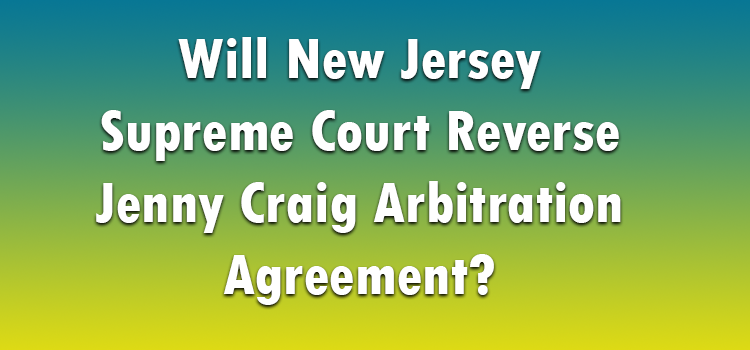 Facts of Flanzman v. Jenny Craig, Inc.
The plaintiff, Marilyn Flanzman (Flanzman) worked for Jenny Craig, Inc. (Jenny Craig) for 26 years as a weight loss counselor. Jenny Craig gradually reduced Plaintiff's full-time hours to only three hours per week, which ultimately led to her termination. At the time of her termination, Flanzman was 82 years old. Flanzman subsequently filed suit, alleging (1) age discrimination and harassment in violation of the New Jersey Law Against Discrimination (NJLAD); (2) discriminatory discharge and/or constructive termination in violation of the NJLAD; and (3) aider and abettor liability under the NJLAD. Defendant sought to compel arbitration relying on the parties' arbitration agreement.
Plaintiff has no recollection of signing the document that contained the arbitration agreement, which the parties did not execute when defendant hired her. Rather, in 2011, twenty years after she was hired, Jenny Craig presented her with the document, which she signed to maintain her employment. The agreement did not specify an arbitral forum.
The trial court ordered the parties to proceed to arbitration, but determined that because the arbitration agreement omitted the forum, the "the choice of which arbitral body would conduct the arbitration would be turned over to the [p]laintiff." On appeal, Flanzman argued that that the arbitration agreement lacked mutual assent and is therefore invalid as a matter of contract law. She further maintained that the parties did not reach a "meeting of the minds" as to the rights that replaced her right to a jury trial.
Appellate Division Decision in Flanzman v. Jenny Craig, Inc.
The Appellate Division agreed and reversed the order compelling arbitration. "We hold that the parties lacked a 'meeting of the minds' because they did not understand the rights under the arbitration agreement that ostensibly foreclosed plaintiff's right to a jury trial," the panel stated.
In reaching its decision, the court emphasized prior precedent requiring that the party signing an arbitration "must be able to understand– from clear and unambiguous language– both the rights that have been waived and the rights that have taken their place." It went on to conclude that an arbitration agreement is unenforceable if a party lacks the required understanding of what rights replace the right to judicial adjudication.
"Selecting an arbitral institution informs the parties, at a minimum, about that institution's general arbitration rules and procedures," the panel explained. "Without knowing this basic information, parties to an arbitration agreement will be unfamiliar with the rights that replaced judicial adjudication. That is, the parties will not reach a 'meeting of the minds.'"
According to the Appellate Division, "The process is important because the rights associated with arbitration forums differ depending on which is chosen, or how the arbitral process is defined. Here, the agreement ignored the subject altogether." Notably, the Appellate Division emphasized that it was not imposing "any special language that parties must use in an arbitration agreement."
Issues Before the NJ Supreme Court
The New Jersey Supreme Court agreed to consider the following question: "Is this arbitration agreement invalid because it failed to identify any arbitration forum and any process for conducting the arbitration?"
During oral arguments, Jenny Craig's counsel urged the court to overturn the Appellate Division's decision. "This arbitration agreement is enforceable. It meets all the concerns that this court has set when a person agrees to waive his or her right to a jury trial," the attorney argued. "The contract signed by the parties was enforceable. The Appellate Division imposed requirements for the first time on … agreements that are not found anywhere in the New Jersey Arbitration or Federal Arbitration Act."
Meanwhile, Flanzman's attorney argued that the Appellate Division's decision should stand. "The arbitration agreement should be invalidated," the attorney stated. "The Appellate Division never said rules of arbitration had to be given in great detail. I think it got it right in that it does not obviate the need for mutual assent. It provides a safeguard if the parties have an enforceable contract. You don't get around basic provisions of New Jersey law. We just need basic information. Not specific details, but just quantum of information."