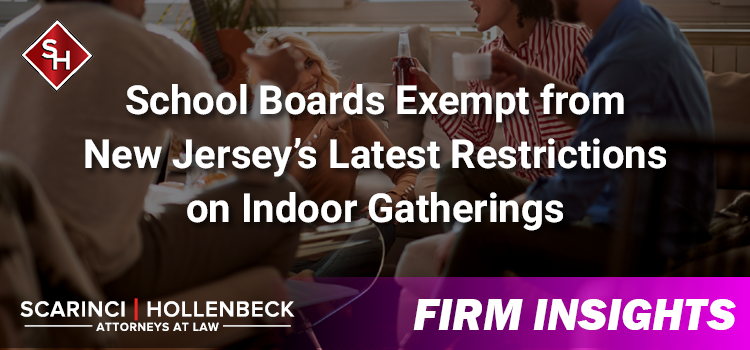 With COVID-19 cases again spiking in New Jersey, Gov. Phil Murphy has issued an executive order imposing tighter restrictions on public gatherings. Pursuant to Executive Order 196, the limit of people gathering indoors will be decreased from 25 to 10. Of particular interest to New Jersey school boards, the Executive Order expressly exempts proceedings of local Boards of Education from the capacity limits.
Executive Order 196
Signed by Gov. Murphy on November 16, 2020, Executive Order 196 lowers the capacity limits for both indoor and outdoor gatherings. Effective Tuesday, November 17 at 6:00 a.m., the indoor gathering limit is decreased from 25 to 10 people. The outdoor gathering limit decreased from 500 to 150 people, effective Monday, November 23 at 6:00 a.m.
The limit for weddings, funerals, memorial services, and religious and political activities remains unchanged. These gatherings remain limited to 25 percent of the capacity of the room in which the gathering takes place, up to a maximum of 150 individuals. 
Indoor sporting competitions and practices will be permitted to exceed the 10-person limit only for those individuals necessary for the practice or competition, such as players, coaches, and referees, but may not exceed 150 individuals. For most indoor sports, this will mean that there can be no spectators.
Weddings, funerals, memorial services, and religious and political activities are not subject to the outdoor gatherings limit. All other types of gatherings, such as high school football games or outdoor concerts, will be limited to 150 individuals. Athletes, coaches, referees, and other individuals necessary for a professional or collegiate sports competition are not counted towards the outdoor 150-person limit.
Exemption for Legislative Proceedings
Executive Order 196 specifically exempts boards of education and local government from the 10-person indoor gathering limitation. The relevant section of the Order states: "Legislative proceedings of state, county, or local government, including local Boards of Education, and state and local judicial proceedings are not subject to the capacity limits on gatherings in this or any other applicable Executive Order." This is the first time the Governor has included this language in any of his Executive Orders and provides much-needed clarity for local Boards of Education.
Remote Board Meetings
Executive Order 196 confirms that local Boards of Education are permitted to hold meetings where the number of attendees exceeds 10 people. Importantly, however, other COVID-19 requirements, such as those related to social distancing and mask-wearing, are still applicable. In communities where COVID-19 cases are rising, local school boards may still elect to hold meetings remotely. When doing so, it is crucial to ensure that all legal requirements are satisfied, such as compliance with the state's Open Public Meeting Act (OPMA).
Boards of education are reminded that they must provide notice of the remote meeting in accordance with OPMA, as well as provide a means of public comment. Boards of education should also provide guidance to the public for remotely accessing and submitting comments at the meeting.
For further information, the Division of Local Guidance Services has provided guidance on remote meetings, which is available here. We also encourage you to contact a member of Scarinci Hollenbeck's Government Law Group with any compliance concerns.