One of the first cases considered by the U.S. Supreme Court this term is of particular interest to New Jersey public employers. The issue before the Court is whether the Age Discrimination in Employment Act (ADEA) exempts political subdivisions of a state with less than 20 employees from the Act's protections.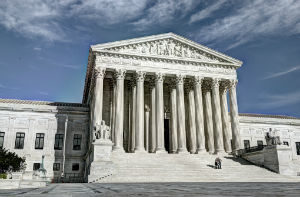 The justices heard oral arguments on October 1, 2018, in Mount Lemmon Fire District v. Guido,with a decision expected by the end of the term next June. Because Justice Brett Kavanaugh was not yet on the bench when oral arguments were heard, he may not take part in the decision.
Facts of the Case
The ADEA prohibits certain "employers" from discriminating against employees because of age. Pursuant to 29 U.S. Code § 630:
The term "employer" means a person engaged in an industry affecting commerce who has twenty or more employees for each working day in each of twenty or more calendar weeks in the current or preceding calendar year: Provided, that prior to June 30, 1968, employers having fewer than fifty employees shall not be considered employers. The term also means(1) any agent of such a person, and (2) a State or political subdivision of a State and any agency or instrumentality of a State or a political subdivision of a State, and any interstate agency, but such term does not include the United States, or a corporation wholly owned by the Government of the United States.
The meaning of the phrase "also means" is at issue before the Court.
Petitioner Mount Lemmon Fire District (Mount Lemmon) is one of Arizona's special fire districts. Under that State's law, the budgets of special fire districts are independent, drawn primarily from local property taxes.
In 2009, John Guido and Dennis Rankin were terminated by Mount Lemmon after the fire district was forced to make significant budget cuts. At ages 46 and 54, respectively, the two full-time fire captains were Mount Lemmon's two oldest full-time employees.
Guido and Rankin allege that they were impermissibly laid off because of their age and filed a federal age discrimination suit under the ADEA. Mount Lemmon moved for summary judgment, arguing in relevant part that the ADEA applies to state political subdivisions only if they have at least twenty employees— a threshold that Mount Lemmon, with its full-time staff of eleven, did not meet. The district court agreed. Following the Sixth, Seventh, and Eighth Circuits, the court concluded that § 630(b)'s text is ambiguous, but best read to impose the same twenty-employee minimum on state political subdivisions that it imposes upon private employers.
The Ninth Circuit Court of Appeals reversed. Determining that "§ 630(b) is not ambiguous," the Ninth Circuit held it applies to all state political subdivisions, no matter how small, "[a]s a matter of plain meaning." According to the court, the contrary reading endorsed by the Sixth, Seventh, Eighth, and Tenth Circuits was too "underwhelming" to be "deemed reasonable." 
Issues Before the Supreme Court
The Court has agreed to address the following question:
Whether, under the Age Discrimination in Employment Act, the same 20-employee minimum that applies to private employers also applies to political subdivisions of a state, as the U.S. Courts of Appeals for the 6th, 7th, 8th and 10th Circuits have held, or whether the ADEA applies instead to all state political subdivisions of any size, as the U.S. Court of Appeals for the 9th Circuit held in this case.
At oral argumentcounsel for the firefighters and counsel for the Solicitor General's office maintained that a natural reading of the phrase "also means" references a separate category of employers not contemplated under the 20-person threshold clause. The argument appeared to resonate with at least some of the justices.
Mount Lemmon's counsel acknowledged, "This is a strange statute that was written in a strange way." However, he went on to argue that the justices must decide "between a reading that is, at worst, mildly ungrammatical and one that is wildly untenable."
The Court's decision will have a significant impact on small subdivisions of state governments, particularly special districts that often lack the resources to defend employment lawsuits. The National Conference of State Legislatures, the Council of State Governments, the National Association of Counties, the National League of Cities, the United States Conference of Mayors, the International City/County Management Association, and the International Municipal Lawyers Association all joined an amicus brief in support of the Mount Lemmon Fire District. They argued:
Small special districts like Petitioner have lean budgets and lean staffs, ill-equipped to handle expensive employment discrimination lawsuits, just as their small private employer counterparts are similarly ill-equipped to do. Exposure to discrimination lawsuits would force a small special district to make severe budget cuts, making it impossible to deliver critical services on which residents depend… Small, rural special districts may not have other positions or locations to which they can transfer an employee in lieu of termination or layoffs. When resources are strained, already-leanly staffed special districts encountering employment discrimination lawsuits may find it impossible to remain financially viable.  
The Supreme Court is expected to render a decision sometime before the end of June 2019. We encourage public employers to check back regularly for updates.
For more information about the case or the legal issues involved, we encourage you to contact a member of Scarinci Hollenbeck's Government Law Group.