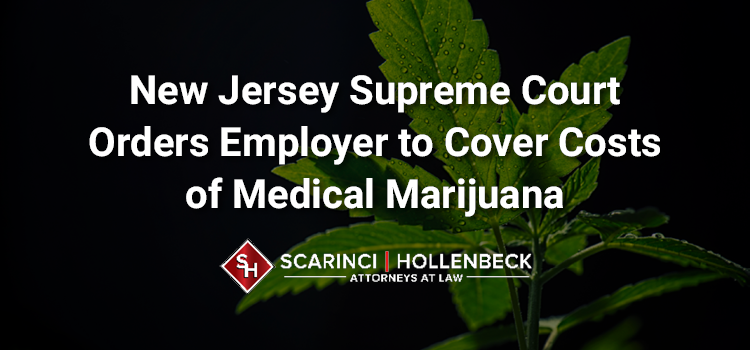 In Vincent Hager v. M&K Construction (A-64-19/084045) (Decided April 13, 2021), the Supreme Court of New Jersey ruled that an employer may be required to reimburse the costs of an employee's medical marijuana. It further held that such a requirement does not conflict with the federal Controlled Substances Act.
Facts of Hager v. M&K Construction
Vincent Hager injured his back in a work-related accident in 2001 while employed by M&K Construction (M&K). For years thereafter, Hager received treatment for chronic pain with opioid medication and surgical procedures to no avail. In 2016, he enrolled in New Jersey's medical marijuana program both as a means of pain management and to overcome an opioid addiction. Thereafter, a workers' compensation court found that Hager "exhibit[ed] Permanent Partial Total disability" and ordered M&K to reimburse him for the ongoing costs of his prescription marijuana (the Order).
The Appellate Division affirmed, and M&K appealed. Specifically, M&K argued that New Jersey's Jake Honig Compassionate Use Medical Cannabis Act (Compassionate Use Act or the Act) is preempted as applied to the Order by the federal Controlled Substances Act (CSA). According to M7K, compliance with the Order would subject it to potential federal criminal liability for aiding-and- abetting or conspiracy. M&K also argued that medical marijuana is not reimbursable as reasonable or necessary treatment under the New Jersey Workers' Compensation Act (WCA). Finally, M&K maintained that it fits within an exception to the Compassionate Use Act and is therefore not required to reimburse Hager for his marijuana costs.
NJ Supreme Court's Decision in Hager v. M&K Construction
The New Jersey Supreme Court unanimously affirmed. It held that M&K did not fit within the Compassionate Use Act's limited reimbursement exception, and Hager presented sufficient credible evidence to the compensation court to establish that the prescribed medical marijuana represents, as to him, reasonable and necessary treatment under the WCA. The New Jersey Supreme Court also interpreted Congress's appropriations actions of recent years as suspending application of the CSA to conduct that complies with the Compassionate Use Act. Accordingly, it further found that the Act is not preempted and that M&K does not face a credible threat of federal criminal aiding-and-abetting or conspiracy liability.
The New Jersey Supreme Court first considered whether M&K is exempt from reimbursing Hager for his medical marijuana under N.J.S.A. 24:6I-14, which provides that reimbursement for medical marijuana costs is not required of "a government medical assistance program or private health insurer." It agreed with the lower court's determination that N.J.S.A. 24:6I-14 does not apply to M&K, interpreting "or" as limiting the applicability of the exception to only the two kinds of entities named, in accordance with general principles of statutory interpretation and the Act's recognition of the potential health benefits of medical marijuana. It further concluded that its reading of the statute is supported by the definition of "Health insurance" in the Life and Health Insurance Code, which unambiguously states "[h]ealth insurance does not include workmen's compensation coverages."
"If the Legislature sought to depart from that general definition and treat workers' compensation and private health coverage in the same manner under the Compassionate Use Act, it could have expressly included workers' compensation insurance in its exhaustive list or broadened the exception more generally, as other states have explicitly done," Justice Lee Solomon wrote.
The New Jersey Supreme Court next turned to M&K's argument that medical marijuana is not a "reasonable and necessary treatment" for which the WCA provides coverage. As the Justice Solomon explained, the legislative history of the WCA requires employers to provide "such medical, surgical and other treatment . . . as shall be necessary to cure and relieve the worker of the effects of the injury" incurred in the course of employment, and specifies that all fees for the "treatment shall be reasonable." Under interpretive case law, it must be shown that the chosen treatment is "reasonable" and "necessary" to cure or relieve the injury of the worker.
The court went on to conclude that medical marijuana may be found, subject to competent medical testimony, to constitute reasonable and necessary care under New Jersey's workers' compensation scheme. "[M]arijuana's ability to relieve pain has been expressly recognized by the Legislature in the Compassionate Use Act. N.J.S.A. 24:6I-2(a), -3," Justice Solomon wrote. "Thus, competent evidence relating to medical marijuana's ability to restore some of a worker's function or, as in Hager's case, relieve symptoms such as chronic pain and discomfort, is sufficient to find such a course of treatment appropriate."
The New Jersey Supreme Court next considered whether the federal CSA extinguishes M&K's obligations under state law. The court concluded that the CSA, as applied to the Compassionate Use Act, is effectively suspended by the most recent appropriations rider, in which Congress prohibited the DOJ from using allocated funds to prevent states, including New Jersey, from implementing their medical marijuana laws. Because DOJ enforcement of the CSA may not, by congressional action, interfere with activities compliant with the Compassionate Use Act, the court found that there was no "positive conflict" and that the CSA and the Act may coexist as applied to the court's Order.
The New Jersey Supreme Court rejected M&K's contention that its compliance with the Order would subject it to aiding-and-abetting and conspiracy liability under federal law on the theory that it would be assisting in Hager's possession of marijuana, contrary to the CSA. As Justice Solomon noted, M&K's payments would not satisfy the specific intent
requirement for aiding-and- abetting liability when the facts so clearly indicate that it will be reimbursing Hager against its will and at the behest of the Court. Likewise, to the extent that the Order requiring reimbursement payments creates a conspiracy between Hager and M&K, M&K's membership can't be said to be intentional. "Reimbursing Hager under court mandate can hardly be interpreted as M&K 'elect(ing)' to aid in Hager's possession of marijuana, contrary to federal law," Justice Solomon wrote. "Rather, it is being compelled to do so by the Order."