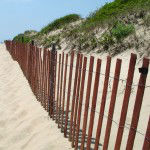 Gov. Chris Christie has signed an executive order that will help New Jersey municipalities move forward with dune construction, beach replenishment, and other flood risk reduction measures in the wake of Hurricane Sandy.
The action is intended to facilitate the acquisition of privately owned land that is needed to complete flood risk reduction measures, and easements across some property where property owners have refused to grant easements. Relying on his emergency powers granted by the statute and the State Constitution, the Governor's Executive Order 140 was issued on September 25, 2013:
Directs Acting Attorney General John Hoffman to immediately coordinate legal action to acquire the necessary easements, and
Creates the Office of Flood Hazard Risk Reduction Measures within the New Jersey Department of Environmental Protection (DEP) to lead and coordinate the efforts to acquire the necessary property.
The Executive Order follows the State Supreme Court decision in the closely watched case of Harvey Cedars v. Karan. After the state Supreme Court reversed a $375,000 judgment in favor of oceanfront homeowners who claimed that newly constructed sand dunes diminished the value of their property, the case has settled for $1.
The Supreme Court held that the benefits of dunes —namely storm protection — should be considered when determining compensation for partial takings related to dune construction. In the trial court, the only negative valuation effect of the loss of the  ocean view was considered The ruling, along with Gov. Christie's action, will reduce the cost of constructing these flood protection measures.
For more information about the Executive Order or the legal issues involved, we encourage you to contact a member of Scarinci Hollenbeck's Government Law Group.