Last month, a federal court ruled that Camden Municipal Court and the City of Camden violated the Americans with Disabilities Act (ADA) by failing to provide a court interpreter for a deaf litigant. The decision in Perez v. Camden Municipal Court highlights that public entities must be mindful of their obligations under the ADA.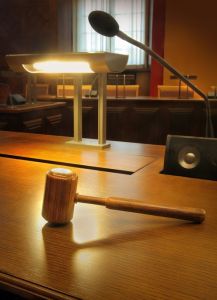 Facts of the Case
The plaintiff, Miguel Perez, had profound deafness and required a sign language interpreter to communicate and understand spoken words. According to the court, Perez was unable to speak intelligibly, read lips, or read written English beyond a second-grade level.
After being convicted of driving under the influence, Perez was ordered to complete an Intoxicated Driver Resource Center (IDRC) program. However, he failed to complete the program. Perez maintained that the IDRC failed to provide him an interpreter, while the Camden Municipal Court and the City of Camden (collectively, the defendants) asserted that Perez decided not to attend despite accommodations that the IDRC offered.
Because Perez failed to complete the program, he was summoned to appear in Camden Municipal Court. During the course of several court proceedings, he was not provided an interpreter. At one hearing, Perez claimed that he was forced to wait for five hours for an interpreter. Camden Municipal Court Judge Steven Burkett then communicated with Perez via writing on a piece of paper to inform him that the hearing was rescheduled.
Perez ultimately completed the IDRC program. He later filed a lawsuit against the defendants, alleging violations of the ADA, Rehabilitation Act of 1973 and New Jersey Law Against Discrimination (NJLAD).
Liability under the ADA
Title II of the ADA prohibits public entities from discriminating against individuals with disabilities in the provision of public services. To prove a prima facie case under Title II, the plaintiff must show: "[1] he is a qualified individual with a disability; [2] that he was excluded from a service, program, or activity of a public entity; and [3] that he was excluded because of his disability." Disability Rights New Jersey, Inc. v. Comm'r, New Jersey Dep't of Human Servs., 796 F.3d 293 (3d Cir. 2015).
In demonstrating that they were excluded from a service, program, or activity of a public entity, plaintiffs may allege that the public entity failed to provide "appropriate auxiliary aids and services" where "necessary to afford an individual with a disability an equal opportunity to participate in, and enjoy the benefits of, a service, program, or activity." Finally, demonstrating that the individual was excluded because of his disability "does not require a failure-to-accommodate plaintiff to show that his injury was the result of purposeful discrimination." Muhammad v. Court of Common Pleas of Allegheny Cty., Pa., 483 F. App'x 759, 764 (3d Cir. 2012).
Court's Decision
U.S. District Judge Robert Kugler of the District of New Jersey granted summary judgment in favor of Perez with respect to his ADA, NJLAD and Rehabilitation Act claims.
In reaching his decision on the ADA claim, Judge Kugler highlighted that the defendants failed to provide an interpreter on seven occasions that plaintiff appeared in Court. "Not providing access to the courts is an exclusion for which a plaintiff can recover under the ADA," he wrote. Judge Kugler also found that Perez had provided "ample evidence that he would have been able to participate in and understand the hearings … had defendants provided an interpreter."
Judge Kugler rejected the defendants' argument that Perez was not deprived of meaningful access to the Court. "It is undisputed that plaintiff is profoundly deaf, cannot lip read, and reads written material at a second-grade level; no reasonable trier of fact could conclude that the exchange of written notes would afford plaintiff meaningful access to Court proceedings," he wrote.
The Court also dismissed the assertion that that the defendants' responsibilities under the ADA were extinguished because Perez was at fault for not attending IDRC. "The Supreme Court, however, has characterized access to the Courts as a 'basic right,' and this Court is aware of no authority restricting the right based on a litigant's culpability," Judge Kugler explained.
For more information about the court's decision in Perez v. Camden Municipal Court or the legal issues involved, we encourage you to contact a member of Scarinci Hollenbeck's Government Law Group.