Congress is currently considering legislation that would dramatically alter administrative law by eliminating so-called "Chevron deference." The House of Representatives passed the Separation of Powers Restoration Act of 2016 last year, and it is currently pending before the Senate Judiciary Committee.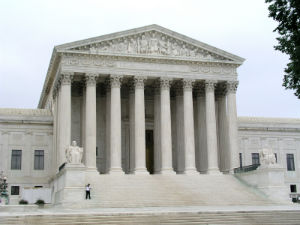 Chevron Deference
Under the U.S. Supreme Court's decision in Chevron U.S.A. v. Natural Resources Defense Council, 467 U.S. 837 (1984), courts must defer to a federal agency's reasonable interpretation of an ambiguous statute that the agency is charged with administering, even if they are inclined to rule another way.  As explained by Justice John Paul Stevens, the analysis involves a two-step process. As Justice Stevens explained:
First, always, is the question whether Congress has directly spoken to the precise question at issue. If the intent of Congress is clear, that is the end of the matter; for the court, as well as the agency, must give effect to the unambiguously expressed intent of Congress. If, however, the court determines Congress has not directly addressed the precise question at issue, the court does not simply impose its own construction on the statute . . . Rather, if the statute is silent or ambiguous with respect to the specific issue, the question for the court is whether the agency's answer is based on a permissible construction of the statute.
Chevron U.S.A., 467 U.S. at 842-43.
The Court's decision in Chevron is one of the most frequently cited administrative law decisions. Because Chevron deference is also credited with strengthening the power of federal agencies, such as the Environmental Protection Agency and Federal Communications Commission, it has also come under fire by legal scholar, lawmakers, and even the Supreme Court.
Separation of Powers Restoration Act
The Separation of Powers Restoration Act modifies the scope of judicial review of agency actions to eliminate Chevron deference. It would amend the Administrative Procedures Act to authorize courts reviewing agency actions to decide de novo (i.e., without giving deference to the agency's interpretation) all relevant questions of law, including the interpretation of: (1) constitutional and statutory provisions, and (2) rules made by agencies.
The Separation of Powers Restoration Act was sponsored by Rep. John Ratcliffe (R-Texas). As explained by Rep. Ratcliffe's (R-Texas) press release, the bill seeks to "reduce the accumulation of power attained by regulatory agencies by restoring the power of the courts to interpret the law, instead of deferring to the interpretation of federal administrative agencies."
It is unclear whether the Republican-held Senate will pass the proposed bill. We will continue to track the Separation of Powers Restoration Act and post updates as they become available.
For more information about the Separation of Powers Restoration Act or the legal issues involved, we encourage you to contact a member of Scarinci Hollenbeck's Government Law Group.