In State v. Isaiah Bell (A-58-18/081743) (Decided April 14, 2020), the Supreme Court of New Jersey held that a prosecutor's failure to instruct the grand jury on lesser-included offenses for murder in response to questions posed by a grand juror did not constitute an abuse of prosecutorial discretion. However, it held that, going forward, "where there is a rational basis for providing instructions on lesser-included offenses in response to grand jurors' questions considered in context, prosecutors should instruct the grand jury on lesser- included offenses and advise the grand jury that trial courts may incorporate lesser-included offenses whether or not the grand jury charges them."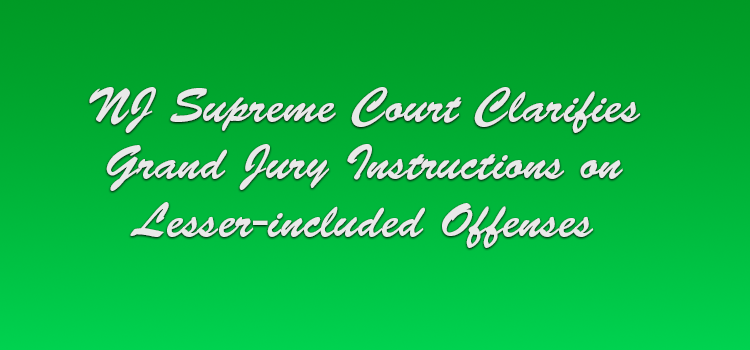 Facts of the Case
Defendant Isaiah Bell was arrested after James Kargbo died from stab wounds apparently inflicted during an altercation that occurred when defendant and his partner arrived at Kargbo's house to pick up her son. A Somerset County prosecutor asked a grand jury to consider two charges against defendant: murder, a crime of the first degree, and third-degree possession of a weapon for an unlawful purpose. The prosecutor explained the counts and elements of the offenses.
A grand juror twice asked whether murder had different degrees, and the prosecutor explained that grand jurors do not determine degrees, only whether the facts presented "fit the elements of the crime." After several witnesses testified and answered questions, the same grand juror asked, "is there such a thing as second-degree murder?" The prosecutor responded by discussing the grand jury's responsibilities regarding "lesser included lower offenses," and the elements of murder. The grand juror asked, "[T]here's no part of the . . . statute that speaks to premeditation?" The prosecutor confirmed that there was not and read the model jury charge for murder. The grand jury indicted defendant on both counts.
Defendant moved to dismiss the indictment claiming that, because the grand jury asked about lesser-included offenses, the prosecutor should have explained the lesser- included offenses for murder. The court denied the motion, finding that the grand jury was not requesting instructions on lesser-included offenses, but rather "clarification." The Appellate Division denied defendant's motion for leave to appeal.
New Jersey Supreme Court's Decision
The New Jersey Supreme Court affirmed. "We determine that the prosecutor did not impermissibly interfere with the grand jury's investigative functions," Justice Solomon wrote. "We agree with the trial judge that the grand jury here sought clarification rather than specific instructions on lesser-included offenses for murder, and we therefore affirm the trial court's order denying defendant's motion and request for reconsideration."
In reaching its decision, the court emphasized that a deficiency premised upon alleged prosecutorial misconduct does not require dismissal of an indictment unless the prosecutor's misconduct is extreme and clearly infringes upon the grand jury's decision- making function. It also noted that courts in other jurisdictions have generally found no affirmative duty to instruct grand juries on lesser-included offenses but have been nearly uniform in ruling that prosecutors may not mislead grand jurors if they pose questions about lesser-included offenses.
The New Jersey Supreme Court adopted the same position, concluding that the constitutional protections afforded defendants by the grand jury process are not undermined by the failure to charge lesser-included offenses. The court further found that the trial court did not abuse its discretion in denying defendant's motion to dismiss the indictment.
"The prosecutor did so here and made no misstatements or misleading representations. No subversion of the grand jury process occurred, " Justice Solomon wrote. "The prosecutor dutifully, honestly, and in good faith answered the grand juror's questions. That the prosecutor did not instruct the grand jury on lesser-included offenses for murder does not constitute an abuse of the prosecutor's broad discretion warranting dismissal of the indictment."
While the court held that no instruction as to lesser-included offenses was needed in this particular case, it noted that other cases may call for such instructions. "When the grand jurors' questions, considered in context, ask about lesser- included offenses and there is a rational basis for instructions on lesser-included offenses, the better practice for prosecutors is to provide them and advise the grand jury that the trial court may include instructions on lesser-included offenses whether or not the grand jury authorizes them," Justice Solomon explained. "That will ensure that grand jurors are fully informed of the consequences of their decisions."