The New Jersey Court system is relying on technology to remain "open" amid the Coronavirus (COVID-19) epidemic. According to the Supreme Court of New Jersey, more than 12,000 court events involving more than 80,000 participants have taken place remotely since March 16, 2020.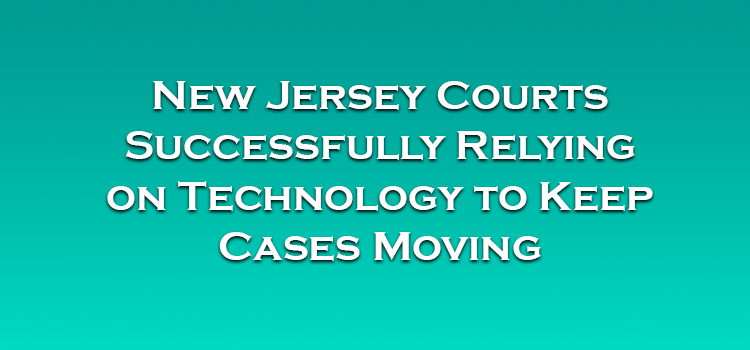 Remote Court Proceedings
New Jersey judges and court employees have been working remotely due to COVID- 19 since March 16. To help facilitate filings while court houses are closed, the Judiciary has expedited the expansion of its Electronic Document Submission (JEDS) system. It has also relaxed certain rules, such as authorizing electronic service via email and allowing electronic signatures.
The New Jersey Judiciary has also been conducting a wide range of proceedings via video and phone. Just like workers across New Jersey, the courts are relying on platforms like Zoom and Microsoft Teams to conduct business.
In its latest Order, dated April 20, 2020, the New Jersey Supreme Court reinforced that most court events that can be conducted using video or phone options will proceed, even over the objection of an attorney or party. Exceptions include sentencing hearings, juvenile delinquency adjudications, and termination of parental rights trials.
The New Jersey Supreme Court's recent Order also addressed public access to remote court proceedings, stating that live streaming technology will be primarily reserved for criminal matters. "Over the past month, the New Jersey courts have leveraged technology to enable remote proceedings in all divisions of the trial courts as well as in the Supreme Court, Appellate Division, and Tax Court," the court wrote in an accompanying notice to the bar. "Nevertheless, our resources are finite, and the Court has determined to prioritize live-streaming for most criminal matters and to permit live-streaming for court events in other divisions based on an individualized determination."
Pursuant to the Order, interested persons may request real-time access to observe events that are not livestreamed (so long as those events are not proscribed from public access). Requests to observe an event that is not livestreamed must be directed to the judge handling the matter.
Other Proceedings Still Delayed
Under the New Jersey Supreme Court's latest COVID-19 order, municipal court sessions can resume by video or phone with appropriate notice to all parties on May 11, however only to the "extent possible based on facilities, technology, and other resources." Disciplinary hearings for attorneys and fee arbitrations in "relatively straightforward matters" will resume via virtual proceedings on May 11.
While technology is allowing New Jersey courts to remain operations, not all proceedings are amenable to technology. Jury trials and grand jury proceedings continue to be suspended and will not resume until at least May 31. Landlord/tenant trials are also postponed.