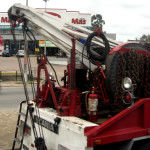 Ever wonder what happens to abandoned vehicles that are towed away? Ultimately, many are sold at public action by New Jersey municipalities. In Sevell's Auto Body Co., Inc. v. Borough Of Roselle Park, the Appellate Division considered whether the businesses hired to tow and store the vehicles should benefit from the proceeds of these sales.
The Facts of the Case
Plaintiff Sevell's Auto Body Co., Inc. (Sevell's) was licensed by the Borough of Roselle Park (Borough) to tow vehicles abandoned or otherwise deemed legally subject to removal and impoundment by the municipality. By statute, Sevell's was authorized to charge a fee to store impounded vehicle. The issue before the court was the amount of storage fees plaintiff is entitled to receive from the Borough when the municipality sold the abandoned vehicles at public auction.
The two sides each pointed to a different NJ statute to justify their position. Sevell's argued that under N.J.S.A. 39:10A-5, it was entitled to recover the total amount of its "expenses of possession" of impounded vehicles. Based on the facts of the case, it sought a writ of mandamus compelling the Borough to pay the total price received for vehicles sold at public auction by the Borough. Meanwhile, the Borough of Roselle maintained that the auto body's fees are limited by N.J.S.A. 40:48-2.50, which sets out the "fees to be paid to an operator by a municipality for the storage of removed motor vehicles."
The Court's Decision
The Appellate Division ultimately agreed with the trial court, which held that N.J.S.A. 40:48-2.50 limits the payment due to a tow operator when an abandoned vehicle is sold at public auction pursuant to the statutory procedures governing the sale of abandoned vehicl
Citing Harvey v. Twp. of Deptford, 402 N.J. Super. 156, 164-65 (App. Div.), certif. denied, 197 N.J. 16 (2008), the panel explained that New Jersey courts have "stated, unequivocally, that the provisions of N.J.S.A. 39:10A-1 to -7 do not accord a tower and operator like plaintiff a private right of action against a municipality." It further noted that Harvey found that "there are no provisions in N.J.S.A. 39:10A-1 to -7 for a remedy in damages in the event a public agency fails to comply with its obligation to auction vehicles towed and stored at its request."
The court highlighted that N.J.S.A.40:48-2.50 is "intended to protect municipalities from being charged exorbitant storage fees for storage following the removal of abandoned and unclaimed vehicles." Accordingly, it found that the Borough's obligations were limited to $400 per vehicle, in accordance with the fee schedule set forth in the statute.
For more information about this case or the legal issues involved, we encourage you to contact a member of Scarinci Hollenbeck's Public Law Group.