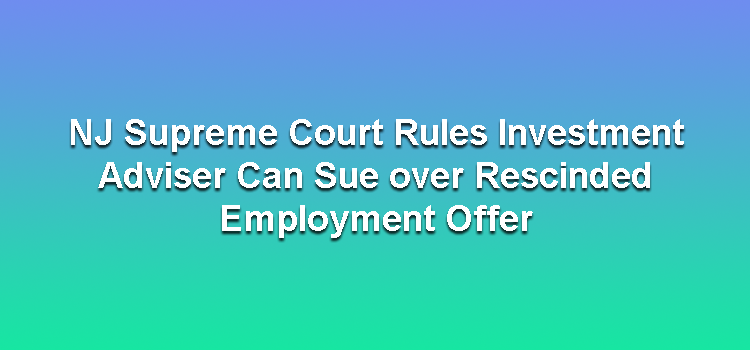 In Jed Goldfarb v. David Solimine (A-24-19/083256) (Decided February 18, 2021), the Supreme Court of New Jersey held that New Jersey's Uniform Securities Law of 1997 does not bar an investment advisor's promissory estoppel claim for reliance damages in connection with a rescinded job offer. While the defendant argued that the plaintiff could not file suit because the Securities Law requires investment advisers to have a writing memorializing the terms for an investment relationship, the New Jersey Supreme Court held that while the law bars suits to enforce contracts, it does not extend to suits predicated upon promissory estoppel.
Facts of Goldfarb v. Solimine
Plaintiff Jed Goldfarb claims that defendant David Solimine reneged on a promise of employment after Goldfarb quit his job to accept the promised position managing the sizeable investment portfolio of defendant's family.
Prior to meeting defendant, Goldfarb was employed as a research analyst tasked with analyzing financial markets in order to offer investment advice. From 2009 to 2013, he earned between approximately $308,000 and $466,000 per year, exclusively from commissions. Goldfarb met defendant in March 2013. According to Goldfarb's testimony, after several conversations, defendant offered him a job managing defendant's family's investment portfolio. His employment was to begin in July or August of 2013, and he would be formally employed by either defendant, defendant's father, or one of two of the family's companies. According to Goldfarb, defendant assured him on June 20, 2013 that he had a job. Goldfarb asked defendant for a term sheet, but defendant failed to provide any writing memorializing their agreement, and no written employment agreement was ever produced or presented to plaintiff. Nevertheless, counting on the new job that had been offered, Goldfarb quit his old one and began providing defendant with profitable stock tips and financial advice. Then, in August 2013, defendant told Goldfarb that he would not employ him. Goldfarb commenced this action in response.
Defendant argued that the agreement between the parties was governed, and barred, by the Securities Law. The trial court submitted the case to the jury on a theory of promissory estoppel. The court limited plaintiff's potential damages, describing them as restricted "to the minimum salary he would have made" in defendant's employ. The jury found for plaintiff on liability and awarded $237,000 in damages. The Appellate Division affirmed the verdict as to liability, but it concluded "that plaintiff was entitled to present evidence of his reliance damages" and remanded for a new trial limited to those damages.
NJ Supreme Court's Decision in Goldfarb v. Solimine
The New Jersey Supreme Court affirmed. "We now hold that the Securities Law does not bar plaintiff's promissory estoppel claim for reliance damages, and we affirm the liability judgment on that claim," Justice Jaynee LaVecchia wrote. "We further affirm the remand for a new damages trial in which plaintiff will have the opportunity to prove reliance damages."
The New Jersey Supreme Court first addressed whether a promissory estoppel claim is barred by the Securities Act in the absence of a written agreement, and, if not, whether plaintiff may obtain reliance damages. As explained by the court, the Securities Law intends to forbid the enforcement of an investment advisory contract that has not been reduced to writing. N.J.S.A. 49:3-53(a)(3) specifically prohibits any party from engaging in dishonest and unethical practices as defined by the Chief of the Bureau of Securities. The list of "[d]ishonest or unethical practices" prohibited by that statute includes "[e]ntering into, extending, or renewing any investment advisory contract, unless such contract is in writing and discloses" certain material terms. Although the writing requirement is found in a regulation, it is reinforced by statute: N.J.S.A. 49:3-71(h) declares that "[n]o person who has made or engaged in the performance of any contract in violation of any provision of this act or any rule or order hereunder . . . may base any suit on the contract."
While the New Jersey Supreme Court agreed that the Act's reference to forbidding suits based on "the contract" under N.J.S.A. 49:3-71(h) would translate to a suit based on the employment agreement that Solimine dishonored, it rejected the argument that the dishonored employment agreement to include the promise of employment itself. In support, the court cited the distinctions between the two forms of claims, concluding that Goldfarb's claim of promissory estoppel is not a "suit based on the contract." According to the court, "it is instead a suit based on his reasonable reliance, to his detriment, on Solimine's promise of a job."
The New Jersey Supreme Court added that no matter far-reaching the prohibitions of the Securities Law may be, they do not prohibit the current suit and its goal of deterring persons from reneging on promises. Accordingly, it found that there was no error in allowing plaintiff's promissory estoppel claim to have been presented to the jury. According to the New Jersey Supreme Court, where the trial court did err was in mis-matching the permissible cause of action  — promissory estoppel — with the impermissible remedy — expectation damages — that would have accompanied a contract-based claim.
Accordingly, the New Jersey Supreme Court remanded the case to the lower court for a new damages trial in which plaintiff will have the opportunity to prove reliance damages. As directed by the court, Goldfarb is not entitled to benefit-of-the-bargain damages