On February 22, 2021, Gov. Phil Murphy signed legislation legalizing cannabis use and possession for adults 21 years and older…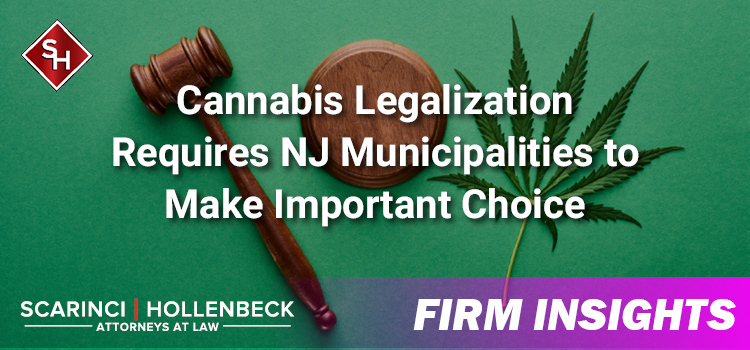 On February 22, 2021, Gov. Phil Murphy signed legislation legalizing cannabis use and possession for adults 21 years and older, establishing the regulatory framework for legal cannabis. Gov. Murphy also signed two bills that dramatically alter how cannabis is treated under New Jersey law. One bill decriminalized marijuana and hashish possession, while the other overhauled cannabis use and possession penalties for individuals younger than 21 years old. Now that they are finally law, the three regulations will significantly impact New Jersey municipalities.
Ordinances Regulating Cannabis Businesses
Under "The New Jersey Cannabis Regulatory, Enforcement Assistance, and Marketplace Modernization Act" (Assembly Bill 21), the Cannabis Regulatory Commission (CRC) will promulgate regulations to govern the medical and adult-use industries and oversee the applications for licensing of cannabis businesses. However, municipalities will also have a regulatory role.
Municipalities will have the option to authorize and regulate the number of licensed businesses, as well as their location, manner, and times of operation within its jurisdiction. In the 180-day period following the bill's enactment, municipalities can also enact an ordinance prohibiting the operation of marijuana cultivation facilities, marijuana product manufacturing facilities, marijuana testing facilities, and retail marijuana stores.
Only an ordinance to prohibit operations by one or more license classes enacted under Assembly Bill 21 will be valid and enforceable. Accordingly, any ordinance prohibiting cannabis businesses enacted prior to the bill's effective date is null and void, and municipalities may only prohibit the operation of one or more classes of cannabis business by enacting a new ordinance in accordance with the bill's provisions.    
The failure to timely enact an ordinance prohibiting such operations would permit any class of cannabis business, not otherwise prohibited from operating within the local jurisdiction, to operate therein for a period of five years for the purpose of: growing, cultivating, manufacturing, selling and reselling cannabis and cannabis items. Operations for transporting and delivery services by cannabis cultivators, cannabis manufacturers, cannabis wholesalers, cannabis distributors, and cannabis delivery services would be permitted uses in all industrial zones of the municipality; and the selling of cannabis items to consumers from cannabis retailers would be a conditional use in all commercial zones or retail zones, subject to meeting the conditions set forth in any applicable zoning ordinance or otherwise receiving a variance in accordance with the Municipal Land Use Law (MLUL). At the end of the five-year period, municipalities could revisit the issue of prohibition during a new 180-day period. However, during that time a prospective ordinance would not apply to cannabis businesses already operating within the local jurisdiction.
If a municipality allows the operation of cannabis businesses, a copy of each license application submitted to the commission for a business to be located within that local jurisdiction would be provided to the municipality. In turn, this informs the CRC as to whether the application complies with its local regulatory scheme. The local review could be the basis for a denial of an application if it is not in compliance.
Local Taxation of Legal Cannabis
Municipalities can also adopt an ordinance authorizing a local transfer tax. This transfer tax can be imposed on sales that occur within the municipality: between a cannabis business that holds a cultivator, manufacturer, wholesaler, or retail cannabis license and another such licensed cannabis business; between cannabis retailers and customers; or between any combination thereof. A local tax can't be imposed on transfers involving distributors for purposes of the bulk transportation of cannabis items, or delivery services for purposes of delivering cannabis items to consumers.
Municipalities also have the discretion to set the rate or rates for the transfer tax, provided it does not exceed: two percent of the receipts from each sale by a cannabis cultivator; two percent of the receipts from each sale by a cannabis manufacturer; one percent of the receipts from each sale by a cannabis wholesaler; or two percent of the receipts from each sale by a cannabis retailer. This tax, if imposed, will be applied in the form of an equivalent user tax on non-sale transactions between cannabis businesses operated by the same license holder. The local transfer tax or user tax will be collected by cannabis businesses and forwarded to the chief financial officer of the municipality for use by that municipality.
Decriminalization of Marijuana
Assembly Bill 1897 reforms the criminal and civil penalties for marijuana and hashish offenses. For adults 21 and older, the possession of up to six ounces of marijuana is completely decriminalized. However, there are still regulations in place that sanction certain marijuana distribution activities. Be sure to consult an attorney first if you have any questions regarding marijuana possession or distribution. First offenses for individuals who distribute 1 ounce or less of marijuana or 5 grams or less of hashish may result in a written warning. The law prohibits unlawful low-level distribution and possession offenses from being used in pretrial release, probation, and parole decisions and provides certain protections against discrimination in employment, housing, and places of public accommodation.
The new law also provides remedies for people currently facing certain marijuana charges. The Office of Attorney General Gurbir Grewal has established a website dedicated to Marijuana Decriminalization & Cannabis Legalization. Attorney General Grewal issued guidance to prosecutors and law enforcement, which is available on the new website. The directive to law enforcement instructs state, county, and municipal prosecutors to dismiss charges pending as of February 22, 2021 for any marijuana offense that is no longer illegal under state law.
Assembly Bill 5342 clarifies the penalties for alcohol, marijuana and cannabis possession and consumption for individuals younger than 21 years old. They will no longer face arrest or penalties if caught with alcohol or marijuana in a public place, but will receive a written warning. Additionally, the odor of alcoholic beverages or marijuana will not constitute reasonable articulable suspicion to initiate an investigatory stop of a person or constitute probable cause to initiate a search of a person or that person's personal property to determine an underage possession or consumption violation. 
Now that New Jersey has taken the final steps to legalize recreational cannabis, local municipalities have some important decisions to make. For more information about the new cannabis laws or the legal issues involved, we encourage you to contact a member of Scarinci Hollenbeck's Government Law Group.