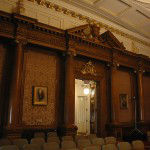 The Port Authority of New York and New Jersey is exempt from the requirements of the New Jersey Open Public Records Act, according to a New Jersey appeals court. The court reasoned that because the Port Authority is an instrumentality of the two states, it is not considered an "agency" under OPRA.
The case, Dittrich v. Port Authority of New York and New Jersey, involved a public records request filed by a man arrested by Port Authority police at the Hoboken PATH station in August 2010. After several of his requests were denied under the Port Authority's Freedom of Information Policy, he filed suit. A New Jersey Superior Court judge dismissed the complaint for lack of jurisdiction, and the Appellate Division recently affirmed.
As highlighted by the appeals court, the threshold question was whether the Port Authority is an "agency" within OPRA's definition of public agency, which includes: "… any division, board, bureau, office, commission, or other instrumentality within or created by a political subdivision of the State or combination of political subdivisions, and any independent authority, commission, instrumentality or agency created by a political subdivision or combination of political subdivisions."
The court ultimately concluded that the Port Authority was not subject to OPRA. "Bi-state entities occupy a significantly different position in our federal system than do the states themselves. The states, as separate sovereigns, are the constituent elements of the union. Bi-state entities, in contrast, typically are creations of three entities: two states and the federal government," the justices explained, citing Hess v. Port Authority Trans-Hudson Corp., 513 U.S. 30 (1994).
The appellate court did recognize three scenarios in which a bi-state agency may be subject to New Jersey law: "(1) the compact explicitly provides for unilateral state action; (2) both states have complementary or parallel legislation; or (3) the bi-state agency impliedly consented to a single-state's jurisdiction." However, it found that none of the scenarios applied to the Port Authority.
As noted by the court, the compact creating the Port Authority prohibits unilateral action by one state without the concurrence of the other. It also found that although similarities exist in the New York and New Jersey open public records laws, there must also be some agreement by both states that the law of one state will apply.
For additional information about New Jersey's Open Public Records Act, please contact a member of Scarinci Hollenbeck's Public Law Group.