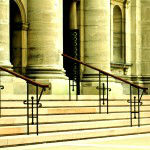 In an interesting legal twist, the Borough of Pine Hill is seeking to shift liability for the release of confidential information to the individual who requested it under New Jersey's Open Public Records Act. The municipality has filed a motion to add the requester, John Schmidt, as a third-party defendant.
The original lawsuit, H.G. v. Borough of Pine Hill, 12-cv- 2954, involves invasion of privacy claims on behalf of three minor children whose Social Security numbers and other confidential information were inadvertently released in response to an OPRA request. Schmidt had requested documents related to litigation between the minors' father and Pine Hill.
The documents Schmidt received in response, allegedly contained the social security numbers of the minor children, observations of a mental health provider regarding the mental health of one child, information suggesting that the mother abused prescription medication, and information regarding domestic violence investigations of both parents.
In its third-party complaint, Pine Hill contends that Schmidt intentionally disclosed the minor plaintiffs' confidential information he received to others, including a newspaper reporter. It further alleges that he did so despite knowing the information he disclosed was confidential.
Based on these allegations, Pine Hill "seeks to allocate fault to Mr. Schmidt and to compel him to provide a defense and indemnification to the defendants based upon the fact that he invaded the privacy of the plaintiffs and/or improperly publicized private facts by dissemination of their private, confidential information."
Even if Schmidt is added to the lawsuit, it is unclear whether Pine Hill will be successful in holding the OPRA requester liable. Regardless of the final court decision, this case highlights that New Jersey public entities must be very careful to screen all OPRA documents for protected information.
For additional information about this case or New Jersey's Open Public Records Act, please contact a member of Scarinci Hollenbeck's Public Law Group.