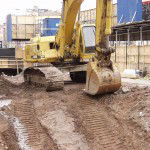 New Jersey Governor Chris Christie has signed the Permit Extension Act of 2012 into law. It extends the expiration date of certain permits and other government approvals until December 31, 2014. The goal of the bi-partisan legislation (A-1338/ S-743) is to ensure that stalled development projects can continue as the economy struggles to rebound.
The Permit Extension Act applies to a number of government permits and approvals. It also expands the reach of the prior law, which was set to expire at the end of the year. The most recent amendment expands the definition of approval to include "an agreement with a municipality, county, municipal authority, sewerage authority, or other governmental authority for the use or reservation of sewerage capacity." Although the law does not extend permits and approvals in areas deemed environmentally sensitive, it does exclude "smart growth extension areas" from this definition.
The Permit Extension Act defines smart growth extension areas to include the following:
An area designated as Planning Area 1 (Metropolitan), Planning Area 2 (Suburban), Planning Area 3 (Fringe Planning Area), Planning Area 4A (Rural Planning Area), a designated center, or a designated growth center in an endorsed plan until June 30, 2013, or until the State Planning Commission revises and readopts New Jersey's State Strategic Plan;
A smart growth area and planning area designated in a master plan adopted by the New Jersey Meadowlands Commission;
Regional growth areas, villages, and towns, designated in the comprehensive management plan prepared and adopted by the Pinelands Commission;
The planning area of the New Jersey Highlands;
An urban enterprise zone;
An area determined to be in need of redevelopment by the Department of Community Affairs; and
Similar areas designated by the Department of Environmental Protection.
The law also makes it clear that the running of the period of approval of all government approvals which would have been extended pursuant to the definition of "smart growth extension area" shall be calculated, using that definition, retroactive to the Permit Extension Act's original enactment.
For additional information about the Permit Extension Act, please contact a member of Scarinci Hollenbeck's Public Law Group.