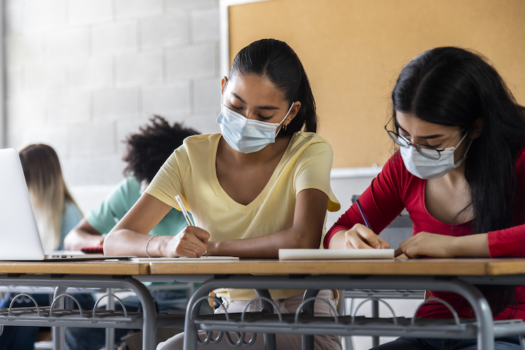 On February 7, 2022, Governor Phil Murphy announced that masks and facial coverings will no longer be mandated for students, staff, or visitors in schools and childcare centers effective March 7, 2022. Going forward, local school districts can decide whether to implement their own universal masking policies.
COVID Metrics Prompt Lifting of Mask Mandate
New Jersey's school mask mandate has been in place since September 2020 when many schools reopened after being locked down for months. At the beginning of the 2021-2022 school year, the mask mandate was expanded to include children aged two and older in daycare and preschool settings.
In moving to rescind the mandate, Gov. Murphy cited declining COVID-19 cases numbers and hospitalizations. He also emphasized the availability of vaccinations for most school-aged children, with the Pfizer vaccine expected to soon be approved for children under age five.
"I must thank the overwhelming majority of students, parents, administrators, educators, and support staffers who have worn their masks without problem or protest since our schools reopened for in-person learning. Thankfully, we have reached a point where we feel confident that we can take another step toward normalcy for our kids," Governor Murphy said in a press statement. "Given the continued drop in new cases and hospitalizations, projections indicating a continued decline over the coming weeks, and the continued growth of vaccinations for our school-aged population, we believe that we can responsibly end the universal mask mandate."
School Districts Can Continue to Implement Mask Policies
School districts and childcare facilities can continue to implement universal masking policies after the mandate ends on March 7. The Department of Health is advising schools that do not impose universal masking to revise their COVID policies to utilize masking among other prevention strategies under certain circumstances.
Schools will not be permitted to bar the use of facial coverings by individuals and will be expected to take disciplinary action in instances of bullying should they arise due to an individual's choice to continue wearing a mask.
Additional Guidance
The Department of Health released new and additional COVID-19 guidance on February 23, 2022, including guidance regarding school mask policies after March 7, 2022.
Masks will still be required on all passengers on school busses, regardless of vaccination status, excepting those under age 2 or who cannot safely wear a face mask.
The Department recommends that in making a determination as to what masking policy to adopt after March 7, 2022, boards consult with local health departments and school district medical personnel.
The Department further recommends that in formulating a masking policy, factors such as a schools' ability to maintain physical distancing, ability to regularly screen students, vaccination rates, ability to ensure appropriate exclusion of students and staff with COVID-19 or who have been exposed, and ability to maintain adequate ventilation, among other factors should also be considered.
Where universal masking policies are not implemented, the Department recommends that schools should require mask-wearing in the following circumstances: during an outbreak or periods of elevated community transmission, after returning from isolation or quarantine, when illness occurs in school or during a test to stay.
The Department also recommends that people with higher risk for severe COVID-19 illness, are concerned about disease transmission, or that participate in activities with increased risk of transmission, should consider masking.
The Department, however, notes that in general, students or staff do not need to wear masks outdoors, including during outdoor physical education classes or school sports except during days 6-10 after completing a 5-day isolation or quarantine when mask-wearing is imperative.
Nevertheless, schools may consider the use of masks during outdoor activities that involve sustained close contact with other individuals or during periods of high and very high community transmission particularly if an individual has a weakened immune system or is not up to date on COVID-19 vaccines or is at increased risk for severe disease may be exposed.
The Department also provided guidance as to when clear masks may be used, such as for those who interact with students or staff who are deaf or hard of hearing, or teachers of young students learning to read, students in English as a Second Language classes, or students with disabilities.
If you have questions, please contact us
If you have legal concerns related to the termination of New Jersey's school mask mandate or how your school district should move forward, we encourage you to contact a member of Scarinci Hollenbeck's Education Law Group at 201-896-4100.