The New Jersey Supreme Court recently heard oral arguments in Grabowsky v. Twp. of Montclair. The key issue in the case is whether municipal officials should be precluded from participating in development approvals if they belong to organizations that may be impacted by the project.
The Facts of the Case
In 2012, the Township of Montclair adopted Ordinance 0-12-28, which amended one of the town's redevelopment plans to include an assisted living facility as a permitted use for a particular site, the Church Street Lot. Plaintiff Richard Grabowsky filed an action in lieu of prerogative writs against the Township of Montclair and the Planning Board, challenging the validity of the Ordinance.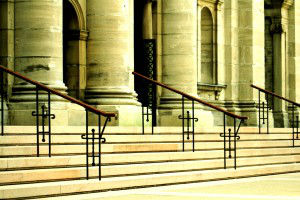 Among other allegations, Grabowsky asserted that Mayor Fried and Councilman Lewis should have been disqualified from voting. In support of that argument, he cited the fact that both Fried and Lewis were members of the Unitarian Universalist Congregation Church located next to the parking lot to be redeveloped. Grabowsky further cited New Jersey statutes that require notice to property owners within 200 feet of a site subject to zoning changes, N.J.S.A. 40:55D-62.1, and a site plan adoption, N.J.S.A. 40:55D-12(b).
The trial court dismissed the suit and the Appellate Division affirmed. While the appeals court acknowledged that disqualification is required when the official's "direct or indirect private interests may be at variance with the impartial performance of their public duty," it found that any potential benefits the church might obtain from the redevelopment were "far too speculative for consideration in determining whether Fried and Lewis had a disqualifying conflict of interest."
The Issues Before the Court
On appeal, the specific question before the New Jersey Supreme Court is: "Were these municipal officials disqualified from voting on this redevelopment ordinance because of their membership in a church located on property that is next to the site to be redeveloped?"
The court held oral arguments on December 3, 2014, during which Grabowsky's attorney called for a clear rule to prevent such conflicts of interest. As reported by the New Jersey Law Journal, he suggested that municipal officials be prohibited from voting on a development matter if they have any interest in a property or organization that is within 200 feet of the property to be developed.
Meanwhile, the Borough's counsel argued that "local governments would be seriously hampered" by the 200-foot rule. She also noted that the ban could be subject to abuse "from political foes or competing real estate developers."
As of the date of this publication, the Supreme Court has yet to render a decision in this case.
Given the importance of these issues, we will be closely following this case and will publish an update once the New Jersey Supreme Court renders a decision. For more information about this case or the legal issues involved, we encourage you to contact a member of Scarinci Hollenbeck's Government Law Group.