A federal judge in New Jersey recently dismissed a suit alleging that the Township of Hamilton's zoning board violated the First Amendment to the U.S. Constitution by improperly denying an adult entertainment establishment's application for a business license and repair permit.
The Facts of the Case
In Harding Brass v. Zoning Board of Adjustment of the Township of Hamilton, plaintiff Harding Brass, LLC sought to open an adult entertainment facility and juice bar in Hamilton Township. When Harding Brass applied to use the premises in 2013, the zoning board originally denied the application.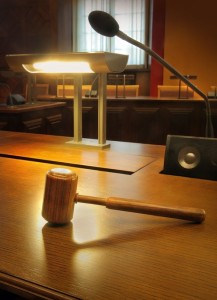 In denying the application, the board found that Harding Brass had failed to provide sufficient evidence that the business was a preexisting nonconforming use. The primary issue was whether, from July 1985 to the present, the property had been continuously used as an adult entertainment establishment. In support of its application, Harding Brass presented the testimony of three witnesses, two of which had been patrons of the prior establishments. However, the board found that memories of the witnesses were insufficient to prove continuous use.
After filing suit in 2014, Harding Brass reapplied and received a favorable decision. At that time, Harding Brass presented testimony from 10 witnesses and an Atlantic City Press article in support of its application. The court's most recent decision addressed whether Hamilton Township originally denied Harding Brass' application because Harding Brass is a strip club where female performers dance "partially covered."
The Court's Decision
U.S. District Judge Joseph Irenas of the District of New Jersey granted summary judgment in favor of the township. He found that there was no evidence that the zoning board was motivated by bias towards the strip club when initially denying the application.
"There is simply no evidence in the record supporting an inference that the board or township acted for a reason prohibited by the First Amendment when the board originally denied Harding Brass' application," Judge Irenas held.
In reaching his decision, Judge Irenas noted that the record supported the board member's contention that Harding Brass failed to satisfy his burden of proof with regard to the preexisting nonconforming use. "All of the record evidence supports only one conclusion. The board members based their Sept. 23, 2013, decision on a content-neutral reason: the insufficiency of Harding Brass' evidence concerning continuous use—irrespective of what that 'use' was," the court wrote. "The lack of evidence is supported by the record. At the September hearing, Harding Brass put forth little to no evidence to account for more than a decade of time—approximately the late '80s to 1999. This, coupled with the potential biases and vague memories of all of the witnesses presented, supported the board's decision."
For more information about the court's decision or the legal issues involved, we encourage you to contact a member of Scarinci Hollenbeck's Government Law Group.