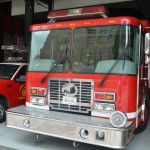 The Appellate Division recently considered whether a business owner was entitled to notice before the City of Bridgeton's fire chief ordered its fire-damaged building to be demolished. The court found that the fire chief had the sole authority to direct operations at the fire scene and acted within his statutory authority when he ordered portions of the building to be demolished.
Crystal Ice-Bridgeton LLC filed a lawsuit against the city, its officials, and Gates Excavating, alleging that the company should be compensated because N.J.A.C. 5:23-2.32(b)(2) and N.J.S.A. 40:48-2.5(f)(2) require construction officials to give building owners 24 hours' notice if a building is to be demolished if it is in danger of collapsing. However, the Appellate Division concluded that the requirements did not apply when the fire chief determines that demolition is needed to protect lives and property during a fire.
In its opinion, the court specifically cited N.J.S.A. 40A:14-54.1, which provides:
The chief…of any municipal paid or part-paid fire department…who is charged with the duty of supervising or directing operations at the scene of any fire shall be the sole authority within fire lines established by said fire chief…at the scene of such fire with respect to all firefighting operations relating to the protection of lives and property endangered by such fire, and within said fire lines such authority shall supersede that of any municipal police authority. The authority hereby invested in the chief…shall terminate at such time as he shall declare the fire out…
As highlighted by the appeals court, "The purpose of this law is to give a fire chief 'sole authority' to direct ongoing fire operations to protect the lives and
property endangered by a fire until he or she declares the fire to be out." In this case, the court noted that the demolition order was given to while firefighters were still on the scene and was needed to "open up hidden pockets of fire." Therefore, it concluded that the fire chief was exercising his statutory authority under N.J.S.A. 40A:14-54.1.
"We are not dealing with a situation where a construction official decided independently, without the involvement of a fire chief, to demolish a fire-damaged building," the court stated. "In such a situation, the requirements in [the statute and regulation cited by the plaintiff] potentially would be applicable."
For more information about this case, we encourage you to contact a member of Scarinci Hollenbeck's Public Law Group.