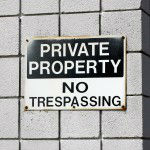 "No Trespassing" and "No Loitering" signs can be an effective means for New Jersey municipalities to deter criminal activity and prevent injury lawsuits. A new decision by a New Jersey appellate court clarifies just how much legal weight these signs carry.
State v. Gibson specifically considered whether it mattered that the owner of the property had posted a "no loitering" instead of a "no trespassing" sign. Under N.J.S.A. 2C:18-3(b), defiant trespass is defined as the act of "entering or remaining in any place" without "license or privilege" where "notice against trespass is given."
The Facts of the Case
David Gibson was arrested on Nov. 24, 2007, outside a private community center in Burlington City owned by the Omega fraternity. They had a "no loitering" sign in the window.
The arresting officer observed Gibson standing on the property, leaning against the porch. When the officer approached, Gibson tried to leave, and was placed under arrest for criminal trespass. During a search at the police station, 13 small bags of crack cocaine were discovered in Gibson's possession.
On appeal, the defendant argued that the requirements of the trespass statute were not met, thereby negating the police officer's assertion that he possessed a reasonable suspicion of criminal activity and, later, probable cause.
The Court's Ruling
In this New Jersey lawsuit, the court concluded that a "no loitering" sign provides sufficient notice for a conviction under the state's trespassing statute. According to the court, the notice requirement of the trespass statute can be satisfied through the utilization of other words, so long as the owner's intent to keep others off the property is reasonably conveyed.
"There is nothing in our jurisprudence to suggest a stilted interpretation … that would require the property owner to talismanically invoke the word 'trespass' in the posting required as opposed to some other similar wording," the opinion states.
The Message for Municipalities
Either type of sign is adequate, so long as the owner's intent to keep others off the property is made clear to would-be trespassers.