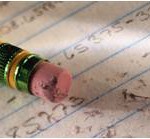 The Superior Court of New Jersey Appellate Division recently published its opinion in the case of American Civil Liberties Union of New Jersey (ACLU-NJ) v. New Jersey Division of Criminal Justice (NJ-DCJ). The issue before the court was whether, in response to a request for government records under the Open Public Records Act (OPRA) and common law, the government can redact admittedly responsive documents and withhold information the agency deems to be outside the scope of the request. The court ruled that it could not.
Facts
The ACLU-NJ submitted an OPRA request to the NJ-DCJ seeking documents related to Automatic License Plate Recognition (ALPR) technology. In response, the NJ-DCJ provided 79 pages of documents.  They redacted parts of the documents requested since they were unrelated to the OPRA request. For example, a grant application had complete pages pertaining to law enforcement initiatives redacted because the NJ-DCJ deemed it unrelated to the ALPR technology which was the subject of the OPRA request.
History
The ACLU-NJ filed an order to show cause and verified complaint seeking declaratory and injunctive relief regarding this redaction policy, and an award of counsel fees under OPRA. The Law Division ruled that the NJ-DCJ acted appropriately and dismissed the ACLU-NJ's complaint.
Decision
The NJ-DCJ did not argue that its redaction policy was based upon privilege or statutory exemption. The court found that the redaction policy was based upon the unilateral decision of the custodian of records, and was therefore an improper conference of quasi-judicial powers to the custodian. The court reasoned that there is no basis to expand the custodian's role beyond what is set forth in N.J.S.A. 47:1A-5(g). The court pointed out that absent a legally recognized exception to disclosure, the right to information is unfettered. Therefore, the NJ-DCJ could not redact items in the documents that were part of the OPRA request which were beyond the scope of the OPRA request.
For more information about the lawsuit discussed or the legal issues involved, we encourage you to contact a member of Scarinci Hollenbeck's Government Law Group.