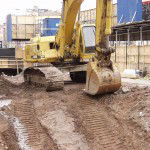 New Jersey municipalities could soon have new rules for redevelopment projects. The Senate Community and Urban Affairs Committee recently amended and approved a bill that would alter the state's "Local Redevelopment and Housing Law."
The bill, S-2447, incorporates two New Jersey court decisions. The first is Gallenthin v. Paulsboro, 191 N.J. 344 (2007), which clarified that a finding of "deterioration or stagnation that has a decadent effect on surrounding property" must exist in order for an area to be determined in need of redevelopment. It further emphasized that the use of eminent domain cannot be justified to acquire property solely upon the basis that it is underutilized, unless the property otherwise meets the criteria for blight.
The bill would also amend the LRHL to address the due process concerns raised in Harrison Redevelopment Agency v. DeRose, 398 N.J. Super. 361 (App. Div. 2008). In that case, the Appellate Division held that when a condemning authority fails to provide the property owner with adequate written notice of condemnation for redevelopment, the 45-day deadline for filing a challenge can be waived.
Under the proposed notice requirements, municipalities would be required to advise property owners within a proposed redevelopment area of the municipality's intention to use or not use eminent domain to facilitate a redevelopment plan at the outset of the investigation and provide specific notice of such designation. Unless a municipality notifies owners of property located in a proposed redevelopment area that the designation will allow the municipality to take property located in the area by eminent domain, the municipality will not be authorized to condemn property in the designated area for redevelopment purposes.
Despite establishing a higher bar for blighted properties, the bill does provide municipalities with new options for undertaking redevelopment projects of properties not involving condemnation. It would specifically authorize municipalities that intend to implement redevelopment initiatives, without using eminent domain, to do so but to still take advantage of the other tools available under the LRHL. In other good news for municipalities, the bill also removed several unfavorable provisions that were contained in previous versions of the legislation. For instance, several requirements related to property owner involvement in the appraisal process have been eliminated.
A companion bill, A-3615, is currently pending before the Assembly Commerce and Economic Development Committee. We will continue to provide updates as they become available.
For more information about this legislation or how it may impact your municipality, we encourage you to contact a member of Scarinci Hollenbeck's Public Law Group.