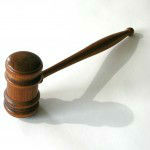 New Jersey continues to be plagued by judicial vacancies, with two seats on the state's highest court still unfilled. As a temporary fix, Chief Justice Stuart Rabner has elevated Judges Mary Cuff and Ariel Rodriguez to sit on the New Jersey Supreme Court starting October 1.
As we have previously highlighted on this New Jersey Government and Law Blog, state law generally requires judges to be appointed by the governor and confirmed by the Senate. However, the New Jersey Constitution also provides that the chief justice can temporarily elevate senior Superior Court judges to the court "when necessary."
Prior attempts to nominate permanent replacements have been marred by partisan politics. Earlier this year, Gov. Christie's two nominees, Chatham borough Mayor Bruce Harris and First Assistant Attorney General Phillip Kwon, were both rejected by the Senate Judiciary Committee. It determined that Harris did not have sufficient trial court experience and raised questions about Kwon's suitability based on past tax issues involving a family business.
The temporary replacements maintain the court's political balance. Rodriguez is a Republican and Cuff a Democrat. They will join Democrats Stuart Rabner and Barry Albin, and Republicans Helen Hoens and Anne Patterson. Jaynee LaVecchia is the lone Independent on the court.