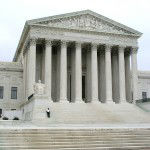 A recent United States Supreme Court decision clarifies a key area of administrative law while also providing telecommunications providers with potential grounds to argue that a municipality is not promptly reviewing development applications for telecommunication facilities.  In City of Arlington, Texas v. Federal Communications Commission, No. 11-1545 (May 20, 2013), the Court examined the Federal Communications Commission's (FCC) authority to establish specific deadlines for municipalities to act on zoning applications for personal wireless service facilities, which are regulated by state and municipal law as well as the Telecommunications Act of 1996.  The specific provision of that Act that was at issue requires state or local governments to act on zoning applications "within a reasonable period of time after the request is duly filed."
The FCC issued a Declaratory Ruling stating that the phrase "reasonable period of time" is presumptively (but rebuttably) 90 days to process an application to co-locate a new antenna on an existing tower and 150 days to process all other applications.  Certain cities filed suit, arguing that the FCC lacked the authority to adopt the Ruling.  In a 6-3 decision, the Supreme Court upheld the FCC decision and ruled that courts must apply the framework in Chevron U.S.A., Inc. v. NRDC, Inc., 467 U.S. 837 (1984) to an agency's interpretation of a statutory ambiguity that concerns the scope of the agency's statutory authority (i.e., its jurisdiction), such as the provision at issue here.  Chevron requires courts to defer to a federal agency's reasonable interpretation of an ambiguous statute that the agency is charged with administering.  However, prior to this new decision, it was not settled that Chevron applied equally to jurisdictional questions.
As explained by Justice Antonin Scalia, writing for the majority, "the distinction between 'jurisdictional' and 'non-jurisdictional' interpretations is a mirage.  No matter how it is framed, the question a Court faces when confronted with an agency's interpretation of a statute that it administers is always, simply, whether the agency has stayed within the bounds of its statutory authority."
Justice Scalia further noted that for agencies charged with administering congressional statutes, "both their power to act and how they are to act is authoritatively prescribed by Congress, so that when they act improperly, no less than when they act beyond their jurisdiction, what they do is ultra vires.  Because the question . . . is always whether the agency has gone beyond what Congress has permitted it to do, there was no principal basis for carving out some arbitrary subset of such claims as 'jurisdictional' from the Chevron frame work."
The Court rejected the arguments of the municipalities that the FCC's interpretation inappropriately imposed FCC jurisdiction over matters of primarily local concern.  The Court noted that the FCC's jurisdiction had already been determined by Congress when it adopted, in the Telecommunications Act, the requirement that applications be acted upon in "a reasonable period of time."  The FCC merely sought to clarify that language with its Declaratory Ruling.  The only issue before the Court, essentially, was whether it was the federal agency or federal courts that had the right to decide what "a reasonable period of time" means.
Under New Jersey's Municipal Land Use Law, a municipality must act on filed applications within specified time periods which, in general, are shorter than the period established by the FCC in this Declaratory Rulemaking, although the  local deadlines may be extended with consent of the applicant.  It remains to be seen to what extent telecommunication companies will use the Supreme Court's recent decision as an opportunity to go to federal court to obtain relief when municipalities do not act within the federally established deadlines.
For more information about this case or the legal issues involved, we encourage you to contact a member of Scarinci Hollenbeck's Public Law Group.