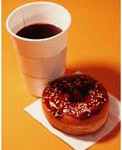 New Jersey legislators are seeking to expand the "Breakfast After the Bell" program as evidence by a bill passed by the Assembly (A-679). The bill requires the state to monitor and record the percentage of eligible students participating in the meal program in each school district. The bill also requires the Department of Agriculture to assist the school districts with implementing the breakfast program.
Breakfast After the Bell is a program that allows schools to take 10 minutes in the first period class or at the start of each day to serve students breakfast. The goal is to increase the participation of all students in the school breakfast program, especially students from low income families. By serving the meal after the school day has begun, there is no embarrassment for students receiving a free before-school breakfast and it ensures more children are present when the food is being served.
The number of free and reduced-price breakfasts served by schools in the state has steadily been increasing. It has been estimated that 254,000 morning meals are currently being served statewide each day.
The bill has received support from a variety of children advocates claiming that children who are not hungry are less likely to misbehave and more open to learning. Additionally, the first few minutes of each school day is used for announcements and organizational matters, so having children eat during this time should not interrupt the teacher's schedule.
There are concerns regarding the expense and the number of children that will need assistance. The federal school lunch and breakfast programs are open to all schools, but districts usually must apply to participate. Federal subsidies are available in the amount of $1.58 for free breakfasts and $1.28 for reduced-price breakfasts. A determination of what each student is eligible to receive depends on the incomes of the children's families and whether they currently receive assistance from certain federal programs.
Children who are not eligible to participate in the breakfast or lunch programs will still be required to pay for their meals. However, efforts are being made to allow paying families a grace period to pay their past due bills before the student is cut-off from receiving meals.
For more information about this legislation or the legal issues involved, we encourage you to contact a member of Scarinci Hollenbeck's Government Law Group.