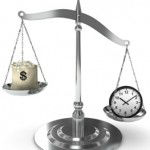 Gannet Co.'s lawsuit against borough of Raritan is one of the longest-running suits under New Jersey's Open Public Record Act (OPRA). In the latest development, a special master appointed by the court has awarded the newspaper company $542,000 in legal fees.
The case, which dates back to 2009, involves Raritan's failure to provide payroll data in response to a public records request. As detailed in a prior Scarinci & Hollenbeck Government & Law blog post, one of Gannet's newspapers requested that the information be provided in a digital file; however, Raritan's private payroll vendor only stored the data in Portable Document Format, or PDF. It would have cost $1,100 for the company to convert its PDF into a spreadsheet.
Unwilling to pay the service charge to convert the data, Gannet filed suit. It argued that payroll records also existed in non-PDF format, although not in a format readily read by humans. Nonetheless, Gannett contended that by failing to provide these files in response to the OPRA request, Raritan violated the law.
The court ultimately concluded that the non-PDF payroll data were government records subject to OPRA, given that the law covers "information stored or maintained electronically." The court rejected Raritan's argument that the data did not qualify as a public document because it was unintelligible to human eyes without the assistance of a computer.
Following the ruling, the court appointed Thomas Quinn as special master to determine the amount of legal fees Gannett should be awarded. The award was made possible under revisions to OPRA, which took effect in 2002. Prior the amendment, successful plaintiffs were only entitled to a $500 award. Under the current law, plaintiffs are entitled to seek legal fees.
"While perhaps the Legislature did not envision litigation such as this and the amount of legal fees that the [special master] recommends, the issue in this case is one of public importance and Gannett is the prevailing party," Quinn wrote in the recommendation he submitted to the court.
"It has furthered OPRA's goals of access to the government and its information," he said.
As this case highlights, the stakes continue to grow for New Jersey municipalities facing OPRA-related litigation. With this in mind, we encourage cities and towns to work with experienced counsel to fully evaluate the validity of an OPRA request, and the applicability of any statutory exceptions, prior to acting on a request.
For more information about this case or the legal issues involved, we encourage you to contact a member of Scarinci Hollenbeck's Government Law Group.