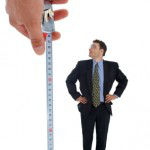 Whether Hott 22, a strip club in Union Township since 1995, can remain open depends how it measures up—with a tape measure.  A federal court in this New Jersey lawsuit will now decide how to measure the "buffer zone"—with a tape measure held from point A to point B as the crow flies or with a tape measure held by a patron who walks to the strip club.
Union Township is seeking to close the club, Hott 22, pursuant to zoning and land use law in New Jersey at N.J.S.A. 2C:34-7(a). It states: "No person shall operate a sexually oriented business within 1,000 feet of any existing sexually oriented business, or any church, synagogue, temple or other place of public worship, or any elementary or secondary school or any school bus stop, or any municipal or county playground or place of public resort and recreation, or any hospital or any child care center, or within 1,000 feet of any area zoned for residential use."
The New Jersey public law issue raised in the case is how the 1,000-foot buffer should be measured. Union Township contends that the club is violating the restriction based on an as-the-crow-flies measurement, essentially drawing a straight line from one property to the other. However, the New Jersey strip club, Hot 22 argues that the distance should be calculated by measuring the walking distance on public streets.
In support of its complaint, Hott 22 claims that since the Garden State Parkway and Route 22 separate Hott 22 from nearby homes, the club complies with the 1,000-foot buffer zone. It further maintains that the more lenient measurement method should be used because the club owners face criminal prosecution.
As reported by the New Jersey Law Journal, Hott 22 has been fighting to stay in its current location since the zoning restrictions were enacted in 1995. A New Jersey Superior Court judge ultimately concluded that enforcement of the act passed constitutional muster under Township of Saddle Brook v. A.B. Family Center, Inc., 156 N.J. 587 (1999), after finding that there were 19 alternative locations in the club's market area.
The Appellate Division affirmed on Dec. 2, 2011, and the Supreme Court declined to hear an appeal last month. The current complaint was filed in federal court on April 23 after township officials ordered the business to close its doors. The township has indicated it will seek to dismiss the case on the basis that the issue should have been raised in state court.
New Jersey cities and towns try to keep adult entertainment out of certain areas through restrictive zoning laws. If this case survives a motion to dismiss, the Federal Court will decide how the town should use the tape measure to calculate the buffer zone under New Jersey law.