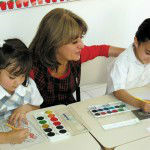 New Jersey has one of the best public school systems in the country and ranks second in per pupil spending. However, many argue that New Jersey's tenure program for teachers is in dire need of an overhaul to keep the most effective teachers in the classroom.
Under New Jersey's current tenure law, teachers are considered "tenured" after three years of service. After that, teachers may only be fired in a limited number of circumstances. As detailed in N.J.S.A. 18A:6-10, "No tenured employee can be dismissed or reduced in compensation except for inefficiency, incapacity, unbecoming conduct or other just cause."
When a New Jersey teacher is charged with any of the above, the school system must still follow a specific set of procedures. Teachers must be formally charged and allowed to present a defense. If the teacher is being fired for alleged inefficiency, the teacher must first be given the opportunity to remedy the problem. As a result, tenure cases can take years to resolve.
Under legislation making its way through both the Senate and the Assembly, tenure would be more closely linked to teacher performance. Under the bill pending in the Senate, introduced by Sen. Teresa Ruiz, (D-Essex), teachers must prove their effectiveness in order to retain tenure.  The bill calls for a teacher evaluation system with four rating categories, ranging from "ineffective" to "highly effective."
New teachers would be granted tenure after four years if they meet certain requirements, including a year of mentoring and two annual "effective" or "highly effective" reviews over the course of three years. To keep tenure, teachers would have to continue to rate well. After two "ineffective" ratings or one "ineffective" after a "partially effective" rating, New Jersey tenure charges could be filed.
Tenure procedures will also be amended. Under the proposed bill, tenure charges would be handled by an arbitrator rather than an administrative law judge, in hopes of making the process more efficient.
Although the Senate and Assembly bills do differ, Sen. Ruiz has reportedly met with Assemblyman Patrick Diegnan Jr. (D-Middlesex), the sponsor of the Assembly bill, to come up with a single piece of legislation. The new version would then have to be passed in both the Senate and the Assembly.