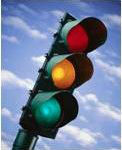 Red light cameras are taking a beating in New Jersey. The majority of the state's 85 cameras are now dormant after the Department of Transportation found the red lights cameras failed to meet statutory requirements. Meanwhile, lawmakers are also looking into whether their use should be outlawed altogether.
Municipalities that failed to meet the requirements of the red light camera pilot program, as laid out in N.J.S.A. 39:4-8.14(a), could also face significant liability. Cherry Hill has already been served with a class-action lawsuit from two motorists who were ticketed through the use of red light cameras.
Under New Jersey's red light camera statutory requirements, municipalities are required to conduct a study of traffic volume and average speeds at each location in order to determine the appropriate length of the traffic signal's yellow light. For instance, an average speed of 35 mph would mandate a 4-second yellow light, while 55 mph speeds would call for a 6-second yellow light. DOT regulations also require the red light cameras to be inspected every six months.
In the case against Cherry Hill, the plaintiffs contend that Cherry Hill did not accurately compute the length of the yellow lights at intersections equipped with the cameras. The suit alleges unjust enrichment and violations of 42 U.S.C. 1983 and the New Jersey Civil Rights Act.
By way of remedy, the plaintiffs call for a court-supervised program to carry out an audit of the estimated 17,529 violations issued by Cherry Hill and seek refunds on behalf of all drivers caught by the red light cameras. That could amount to $1.48 million in fines, according to the New Jersey Law Journal.