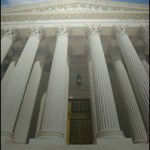 Gov. Chris Christie was able to skirt his political feud with state Sen. Ronald Rice, D-Essex, to secure the nomination of his judicial appointee, Former Attorney General Paula Dow. Dow was originally nominated in Essex County, but had to move to Burlington County in order to avoid the political impasse that has stymied New Jersey judicial nominations in Essex County.
The dispute centers on Christopher Cerf's nomination to serve as the commissioner of education. Rice, a Democrat, used senatorial courtesy to block Cerf's confirmation; in response, Christie has refused to submit nominees to fill several Superior Court vacancies in Essex County, with the exception of Dow. However, her nomination stalled in the Senate, forcing the withdrawal and renomination.
While recent Senate judicial confirmation hearings have been contentious, Dow only faced two key questions. She was first asked to verify that she does live in Burlington County and then asked to respond to allegations lodged in a whistleblower lawsuit filed against her by former assistant Hunterdon County prosecutor Bennett Barlyn. Dow maintained that the termination not retaliatory, but rather an employment decision, and the committee appeared satisfied with her response.
Along with Dow, six others were confirmed for seven-year terms. They included Deputy Public Defender Christopher Garrenger; First Assistant Cumberland County Prosecutor Linda Lawhun; First Assistant Mercer County Prosecutor Janetta Marbrey; Assistant Middlesex County Prosecutor Mirtha Ospina; and Jersey City lawyers Joseph Turula and John Young Jr. The Senate also granted tenure to Bernard DeLury Jr. and Michael Toto.
The confirmations are good news for the New Jersey legal system, which is facing a serious shortage of judges. The growing vacancy rate has already started to impact how long it will take for cases to be decided and these appointments will hopefully help address the backlog.