The U.S. Supreme Court's October 2016 Term will be most remembered for the vacancy created by the death of Justice Antonin Scalia. While the Court was shorthanded, it did reach decisions in several cases impacting local governments. This post offers a brief review of several key public law decisions: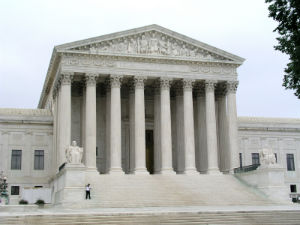 Heffernan v. City of Patterson: By a vote of 6-2, the Court held that when an employer demotes an employee out of a desire to prevent the worker from engaging in protected political activity, the employee is entitled to challenge that unlawful action under the First Amendment and 42 U.S.C. § 1983, even if the employer's actions are based on a factual mistake about the employee's behavior. The plaintiff in the case is a former police officer in Paterson, New Jersey.
Evenwel v. Abbott: The Supreme Court clarified the Constitutional principle of "one person, one vote," which requires jurisdictions to design legislative districts with equal populations. In the key redistricting decision, the justices unanimously held that a state or local government may draw its legislative districts based on total population. "As constitutional history, precedent, and practice demonstrate, a State or locality may draw its legislative districts based on total population," Justice Ruth Bader Ginsburg wrote.
McDonnell v United States: The justices vacated the conviction of the former governor of Virginia, Bob McDonnell. In a unanimous decision, the justices rejected federal prosecutors' broad interpretation of the term "official act" as used in a federal anti-corruption statute. As explained by Chief Justice John Roberts: "To qualify as an 'official act,' the public official must make a decision or take an action on that question or matter, or agree to do so. Setting up a meeting, talking to another official, or organizing an event—without more—does not fit that definition of  'official act.'"
Army Corps of Engineers v Hawkes Co.: The unanimous Court held that a "jurisdictional determination" (JD) that wetlands are subject to regulation under the Clean Water Act was a final agency action within the meaning of the Administrative Procedure Act. The key environmental law ruling left intact the test established under Bennett v. Spear, 520 U. S. 154 (1997) for determining whether an agency action is "final" under the APA.
Commonwealth of Puerto Rico v Franklin California Tax-Free Trust: The Court held that Section 903(1) of the Bankruptcy Code pre-empts Puerto Rico's Recovery Act, which would have allowed public utilities in the commonwealth to restructure $20 billion in debt. In reaching its decision, the majority concluded that Puerto Rico is considered a state with respect to the federal bankruptcy code's pre-emption provision, which expressly bars states from enacting their own municipal bankruptcy laws.
For additional information regarding the above cases, please visit the Scarinci Hollenbeck Constitutional Law Reporter by clicking here. To discuss the legal issues involved, we encourage you to contact a member of Scarinci Hollenbeck's Government Law Group.