In 2014, New Jersey state and federal courts issued several important decisions that impacted municipalities and local agencies. In case you missed our posts, below is a brief summary:
Open Public Records Act: In O'Boyle v. Borough of Longport, the New Jersey Supreme Court held that the common interest rule applied to litigation documents requested under the state's Open Public Records Act (OPRA). The decision confirmed that the attorney-client privilege may shield documents that otherwise meet the statutory definition of government record from inspection or production, and it also helps ensure that municipal and private attorneys will be able to share information and work together.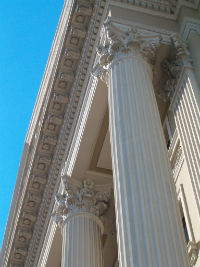 Municipal Land Use: In October, the Council on Affordable Housing (COAH) deadlocked on the vote to approve the agency's proposed "third round regulations," as mandated by the deadlines set forth by the Supreme Court of New Jersey. The Fair Share Housing Center subsequently filed a motion in aid of litigants rights, which asks that the state Supreme Court allow various trial courts, rather than COAH, to "be responsible" for implementing the Fair Share Housing Act. Such a ruling would lift the restrictions in place on the "builder remedy" lawsuits. Oral argument is scheduled for January 6, 2015.
Public Employment: In Lane v. Franks, the U.S. Supreme Court held that the First Amendment protected a public employee when he testified truthfully about fraud in the work place pursuant to a subpoena. According to the Court, the key question in determining whether an employee is speaking as a citizen for First Amendment purposes is "whether the speech at issue is itself ordinarily within the scope of an employee's duties, not whether it merely concerns those duties."
Voting Law: In Tumpson v. Farina, the New Jersey Supreme Court found that the City of Hoboken Clerk lacked the discretion to prevent the filing of a referendum petition based on facial insufficiency. In doing so, the panel further held that the clerk violated the New Jersey Civil Rights Act, thereby entitling the plaintiffs to attorney's fees.
Constitutional Law: In Town of Greece v. Galloway, the U.S. Supreme Court upheld Christian prayers at the beginning of local town meetings, finding the limited prayer was consistent with long-standing, national traditions. The slim majority further reasoned that the content of the prayers is not significant as long as they do not disparage those of other religions or seek to convert them.
Looking ahead to the New Year, there are several ongoing cases that are expected to impact local municipalities, most notably the COAH hearing scheduled for January. The country highest court will also consider several key cases, including whether an Arizona town's sign ordinance violates the First Amendment.
For more information about these cases or the legal issues involved, we encourage you to contact a member of Scarinci Hollenbeck's Government Law Group.